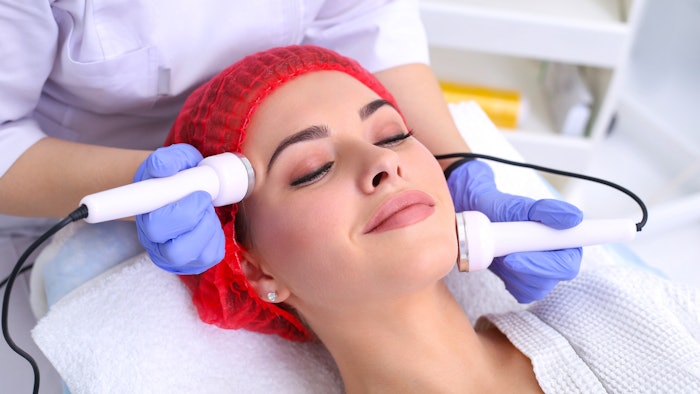 A study focusing on transcutaneous microfocused ultrasound with visualization was conducted to see the benefits it could possess for contouring the lower face and tightening the skin. 
Led by Antonio Araco, MD, the study was published in Aesthetic Surgery Journal, and it focused mainly on the improvement of laxity and ptosis in facial skin. However, the study also looked into the improvement of wrinkles, texture and hemoglobin content, as well as patient response and satisfaction. 
Participants in the study were assessed from November 2017 to November 2018. There were 47 women and 3 men with a mean age of 52.8 ± 7.43 years. Researchers noted the sex, ethnicity, age, Fitzpatrick skin type and smoking habits of the patients who were enrolled in the study. All of the enrolled patients had mild to moderate skin laxity and ptosis of the face and neck. Outcomes were assessed using digital macro-photographs, Vectra H2 and Antera 3D. Researchers also set up strict exclusion criteria including having all participants have roughly a 2.7 ± 0.46 on Araco's Ptosis Scale System. 
After the patients signed a consent form they received 400 lines from each transducer, for a total of 1,200 lines, of microfocused ultrasound with visualization. Each patient completed a follow up six months after the treatment. No major side effects were reported during the study. Patients reported the treatment as tolerable according to the patient pain scale, and there were no statistically significant differences found among homogenous groups of smokers and non smokers. 
The study noted an improvement in wrinkles, texture, Surgeon Assessment Scoring System scores and patient satisfaction scores. Thus, Araco concluded that microfocused ultrasound with visualization in a single session treatment in monotherapy is safe and effective for the treatment of face laxity and ptosis. 
Continue reading the full article in the Aesthetic Surgery Journal here.