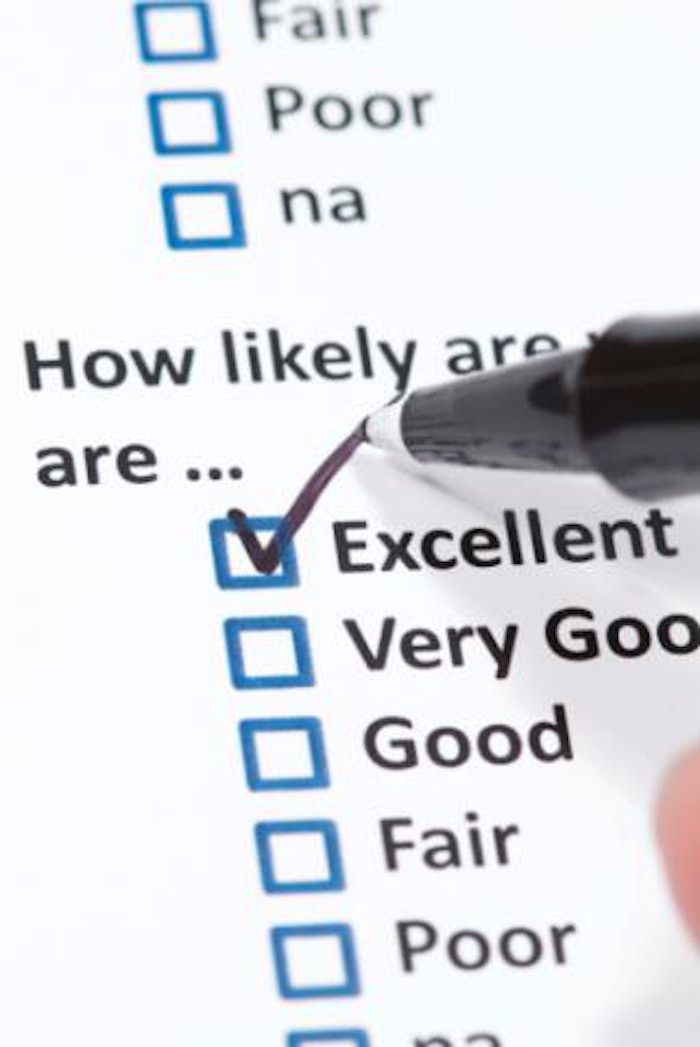 Scottsdale, Arizona-based plastic surgeon Patti Flint, MD, credits the use of patient surveys with enhancing her practice and contributing to a high degree of patient satisfaction. She recommends physicians take a proactive approach to patient relations in an effort to improve the overall operation of their practices and create an atmosphere of trust between doctor and patient.
She asks patients to fill out surveys at two different times: after the initial consultation visit and following the surgical procedure. The post-operative survey is sent three months after treatment so the patient can share information about all of the follow-up visits as well as the surgical result.
The surveys ask patients to respond to various statements about their experience with the practice, rating everything from the initial sign-in process to the final post-operative check-up. The surveys ask patients to rate their experiences on the following topics:
• The timeliness of your appointment
• The way staff shared information with you
• The overall care given to you by Dr. Flint
• Staff listened and were responsive to me
• Dr. Flint seemed to care about my feelings
• Dr. Flint and staff worked well as a team
• I felt comfortable asking questions
• I know whom to call if I have questions
• I was satisfied with the post-operative follow-up care received from Dr. Flint
• I was satisfied with the way the staff prepared me for the experience of surgery and recovery.
In addition to asking patients to respond to these statements, the surveys offers space for additional comments so patients can supplement their responses. This function also allows patients to express opinions on topics that are not expressly solicited in the survey.
"My patients' feedback about their experiences with my practice and me is very important. I want to understand how the experience felt from their viewpoint so my staff and I can continue to improve on the process from start to finish," says Dr. Flint.
Image copyright Thinkstock/istockphoto