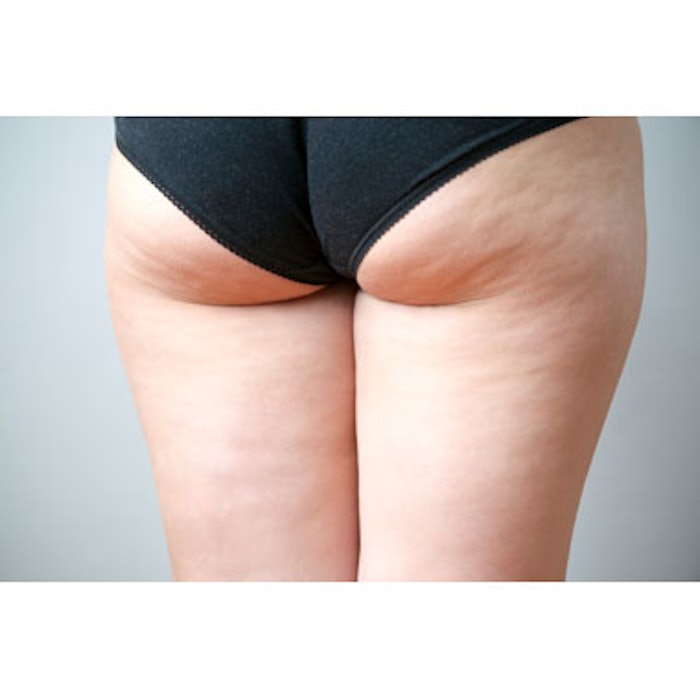 Auxilium Pharmaceuticals has announced positive results from a randomized, double-blind Phase 2a study of injectable collagenase clostridium histolyticum (CCH) for the treatment of cellulite. The study included 150 women between the ages of 18 and 45. All three doses of CCH—low (0.06mg), mid (0.48mg) and high (0.84mg)—showed an improvement in the appearance of cellulite as measured by investigator trial endpoints and the Global Aesthetic Improvement Scale (GAIS). The mid and high dose groups demonstrated a statistically significant improvement in the appearance of cellulite, as measured by GAIS scores, with a p-value of <0.05 compared to placebo. In the mid and high dose groups, 68% of patients reported being "Satisfied" or "Very Satisfied" with the results of their treatment, compared to only 34% of patients randomized to placebo. Positive and consistent results were also demonstrated across the trial's other endpoints, including physician- and patient-assessed Composite Responder Analyses. CCH was well tolerated by all dose groups with most adverse events (AEs) being mild to moderate and primarily limited to the local injection area.
Each subject received up to three treatment sessions of drug or placebo; treatment sessions were spaced approximately 21 days apart. Up to 12 injections were administered into cellulite dimples during each session across an entire treatment quadrant (left or right buttock or left or right posterior thigh).
"These data have exceeded our expectations, demonstrating statistically significant improvements in cellulite as measured by both physicians and patients," said James Tursi, chief medical officer of Auxilium Pharmaceuticals. "These are challenging endpoints and ones that we believe are critical in the context of regulatory consideration. We are continuing to analyze these exciting data and will be gathering key opinion leader and regulatory input and look forward to publishing and presenting our findings in peer-reviewed venues in the future."
Image copyright istockphoto.com