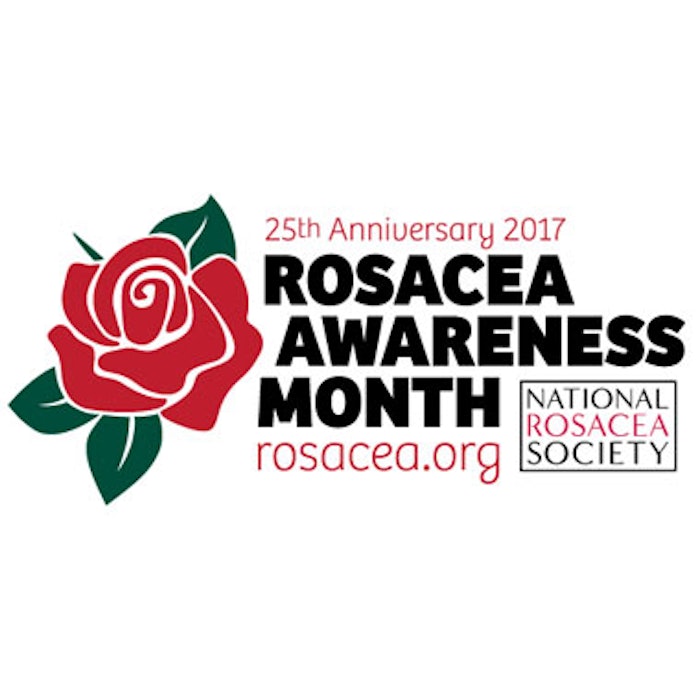 April is Rosacea Awareness Month, and the National Rosacea Society (NRS) is encouraging physicians and patients to take part in educating the public on this chronic and widespread facial disorder now estimated to affect more than 16 million Americans.
The NRS designated April Rosacea Awareness Month 25 years ago in an effort to encourage more people who may have rosacea to seek medical help before it gets worse, and to help those affected find greater public acceptance and understanding.
Research in recent years has tied rosacea to increased risk of a growing number of potentially serious illnesses—including cardiovascular disease, gastrointestinal disease, certain types of cancer and more—yet a recent, large-population study at the Wake Forest School of Medicine estimated that 82% of people with rosacea are currently untreated.
"While the nature of the associations between rosacea and other diseases is not yet clear and no cause-and-effect relationship has been established, these findings underscore the importance of seeking proper medical care," said Dr. John Wolf, chairman of dermatology at Baylor College of Medicine.
Here are some ways you can participate in Rosacea Awareness Month:
Download the Rosacea Awareness Month "Rose" logo and change your social media profile pictures to let your social media network know that you support awareness of rosacea.
Follow the National Rosacea Society on Facebook, Twitter and Pinterest for updates on rosacea and medical research.
Educate your friends and followers about rosacea by sharing rosacea-related social media and blog posts on your pages and inviting them to follow the NRS.
Visit the NRS Weblog for new information, rosacea tips and the latest medical research.
Donate to the NRS to support medical research on rosacea and become a member.
During the month of April—and throughout the year—the NRS will conduct public education activities to reach the many millions of rosacea sufferers who may not realize they have a medical condition that can be treated, emphasizing the warning signs and urging those who suspect they may have rosacea to see a dermatologist. Bulk quantities of educational materials are also available to health professionals for their patients through the NRS website at www.rosacea.org.