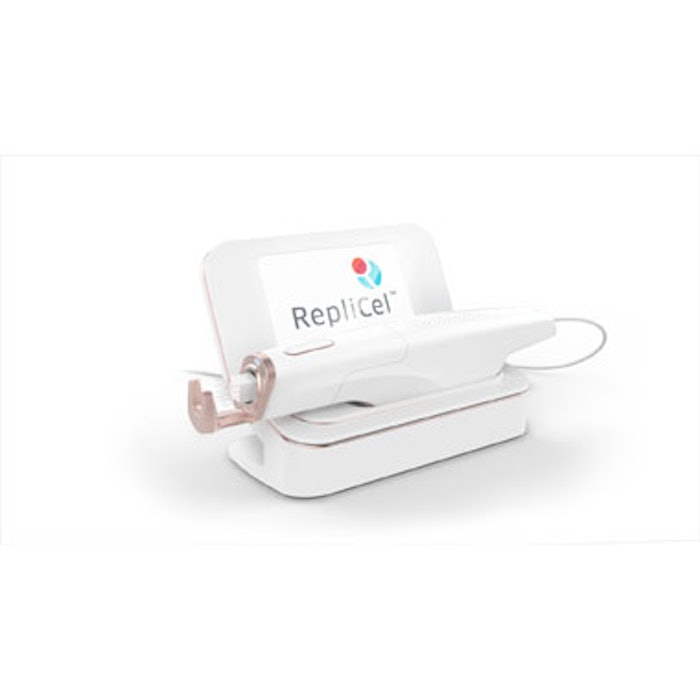 RepliCel Life Sciences has been granted a U.S. patent (No. 9,616,182) covering significant components of its novel, multi-needle dermal injection device. The patent relates to technologies designed to enable better control and repeatable consistency of needle action and product deposition. The patent also relates to the element designed to numb the skin prior to injection with the intended effect of reducing, if not eliminating, the need for local anesthetic prior to aesthetic injection procedures.
The first device being developed under this patent, RCI-02, is designed to inject soft tissue fillers such as hyaluronic acid. The device is also being developed for the injection of RepliCel's RCH-01 hair restoration and RCS-01 skin rejuvenation products. Future iterations of the device will be optimized for other injectables such as drugs, biologics, vaccines and fat grafts.
RCI-02 is a motorized injection device with programmable depth and volume, a built-in Peltier element for pre-injection anaesthetizing and interchangeable needle head configurations. It is designed to deliver a variety of injectable substances including cells, dermal fillers, drugs or biologics intradermally (dermis), subcutaneously (fat) or intramuscularly (muscle) via an array of needle configurations ranging from a single needle to a 16 needle configuration (4x4) on one head. These interchangeable heads can be used to perform a variety of procedures, increase surface area coverage and speed-up procedure times.
"Exclusive U.S. rights to the world's largest aesthetic medical device market represents a significant opportunity for the company as it addresses an unmet need in the cosmetic dermal injection market," said Dr. Rolf Hoffmann, chief medical officer of RepliCel, a practicing dermatologist and the primary inventor of the RCI-02 injector. "Single needle syringes available today do not have the ability to precisely deliver dermal fillers with predictable and consistent results."
The company notes that it is on track to have prototypes available in the third quarter of 2017 and is aiming to have the product licensed and available in 2018.