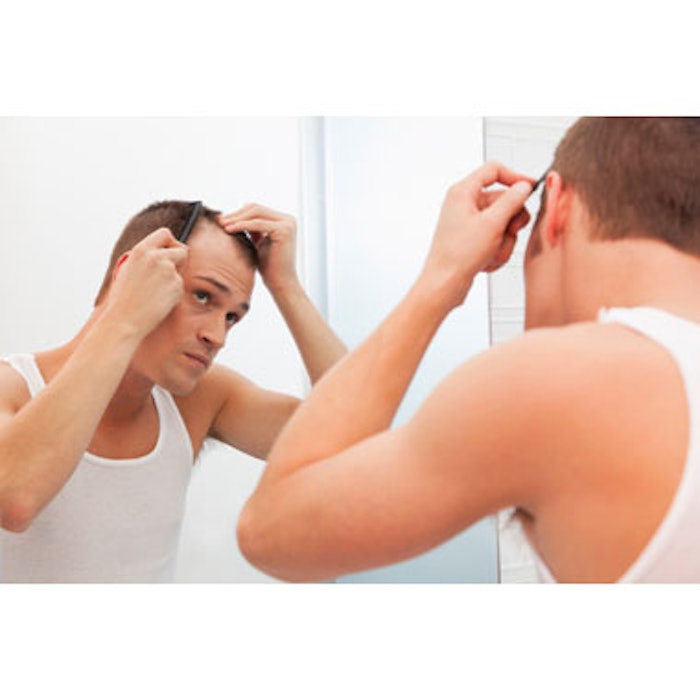 Physicians can support their hair loss patients by sharing information on the different products now available to camouflage thinning hair, according to a recent study published in the June 2017 issue of the Journal of the American Academy of Dermatology. For "Effect of camouflaging agents on psychologic well-being: A cross-sectional survey of hair loss patients," researchers Christina M. Ring, et al, of Thomas Jefferson University in Philadelphia, posted a 12-question survey on various online hair loss forums and blog sites. A total of 359 individuals responded; 348 reported hair loss and 281 (78%) had seen a physician about their hair loss.
Seventy-nine percent of respondents (283) reported using camouflaging agents. The most popular of which included hair-building fibers (59%), followed by hairpieces and wigs (51%), and 43% reported using topical concealing agents daily. Those who completed the survey said that the use of these products improved their appearance (216) and self-esteem (173).
When asked open-ended questions about their topical concealer experiences and preferences, the respondents noted that topical concealers work well for minimal-to-moderate hair loss, but a hairpiece is preferred as hair loss progresses. The downside of topical concealers mentioned included messiness (particularly on clothing, bedding and bathroom surfaces), time for application, expense, itchiness, anxiety over concealers being conspicuous or unnatural looking, and removal by wind, rain and swimming. The majority of users said that the positive effects on appearance and self-confidence outweighed these negative aspects.
The researchers noted that, "although most respondents saw a physician for hair loss, only 8 of 270 respondents (3%) reported learning about concealing products from their physician."
Image copyright Getty Images