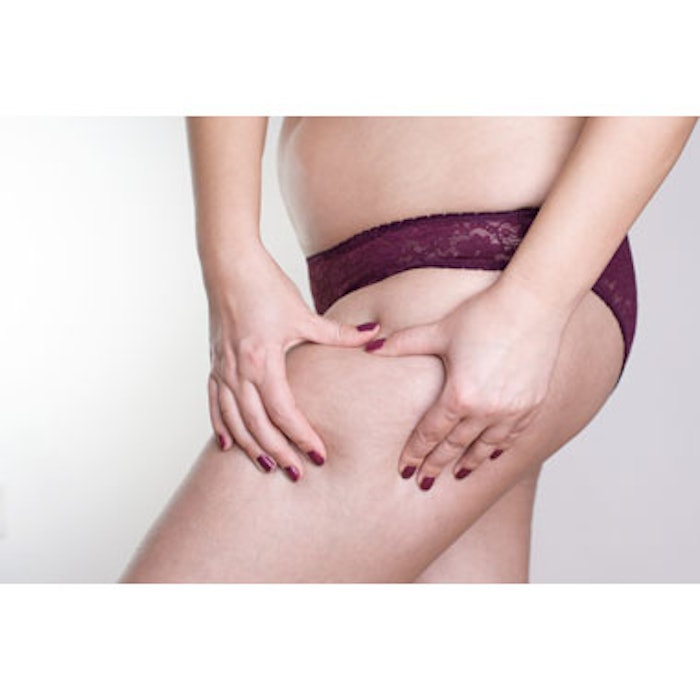 Patients with cellulite and skin laxity who underwent treatment with microfocused ultrasound with visualization (MFU-V; Ultherapy) in combination with diluted calcium hydroxylapatite (CaHa; Radiesse) saw a significant improvement in laxity and a significant reduction in dimpling.
Gabriel Casabona, MD, and Gregorio Pereira, MD, published the results of their retrospective study of 20 female patients (mean age: 40.0 ± 8.2 years; mean BMI 21.5 ± 1.5 kg/m2) in Plastic and Reconstructive Surgery – Global Open (July 2017).
At baseline, blinded evaluators rated 75% of the women as having moderate-to-severe skin depressions. Ninety days after treatment with MFU-V and CaHa, the evaluators noted that 4 women had no evident depressions and 11 had only a small number of depressions (compared with 0 and 5, respectively, at baseline). The depth of the depressions also decreased. Eight women had no laxity, flaccidity or sagging skin at day 90 compared with 0 at baseline. The evaluators recorded an "orange peel" appearance for 8 women at baseline but only 4 at day 90.
All women reported that their skin was smoother 90 days after treatment; 19 of the 20 reported that their dimples were less visible. When asked to rate their overall satisfaction with the treatment, 10 women (50%) were 'very satisfied' and 9 women (45%) were 'satisfied.'
Image copyright Getty Images