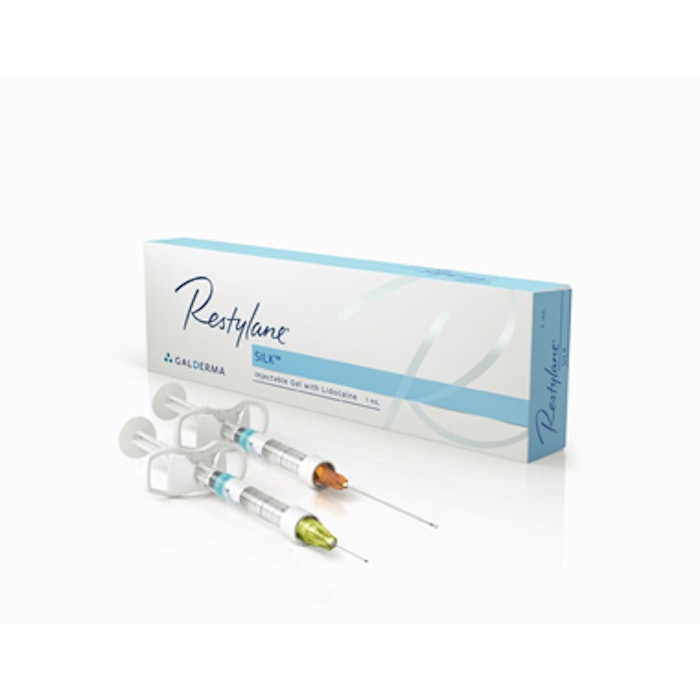 The U.S. Food and Drug Administration (FDA) has approved the use of a small blunt tip cannula with Galderma's Restylane Silk for lip augmentation. Restylane Silk was the first FDA-approved hyaluronic acid (HA) dermal filler specifically designed for lip augmentation and the smoothing of wrinkles around the mouth in patients 21 years of age and older and is now the first HA dermal filler to be approved for lip injection via cannula.
The approval was based on a 12-week, open-label, prospective study that took place in four centers across the U.S. with 60 male and female subjects 23 years of age or older. At 12 weeks, 98% of subjects were observed to have improvement in both the upper and lower lip by the treating investigator, as assessed by the 7-point Global Aesthetic Improvement Scale (GAIS).
Following treatment, no serious adverse events were observed, and the majority of subjects (81.7%) did not experience a treatment emergent adverse event. The majority of reported subject diary symptoms were assessed as mild, with the exception of swelling, and the vast majority of all subject diary symptoms were resolved within seven days.
"In the ever-evolving landscape of aesthetic procedures, medical professionals are continuously looking for new tools and treatment options to ensure our patients are receiving optimal treatment outcomes for their specific needs," said San Diego, CA-based dermatologist Sabrina Fabi, MD. "The ability to use a cannula is a welcome addition to my toolkit, as studies have shown that a small blunt tip cannula demonstrates a suitable safety profile, while achieving the desired fullness to the upper and lower lips."