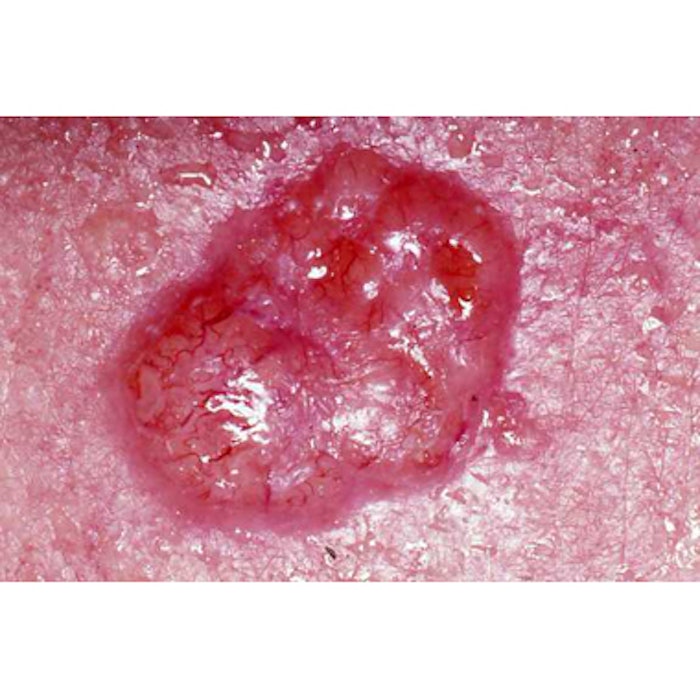 The American Academy of Dermatology has published new guidelines of care for the management of basal cell carcinoma and cutaneous squamous cell carcinoma in the Journal of the American Academy of Dermatology (online January 10, 2018). A work group composed of board certified dermatologists and other experts in the field developed the evidence-based guidelines.
They note that surgical treatment—excision, Mohs surgery, or curettage and electrodessication—is the most effective option for most cases of NMSC. In some cases, however, doctors may consider other treatments, such as cryotherapy, radiation or topical therapy. The guidelines do not include recommendations for treating NMSC with laser therapy or electronic brachytherapy, as there was not enough evidence available for the work group to make an informed decision.
In addition to providing recommendations on NMSC treatment, the guidelines also provide follow-up recommendations for patients who have been diagnosed with BCC or SCC. These patients should receive an exam to check for new skin cancers at least once a year and take steps to prevent the development of future skin cancers. The AAD recommends that everyone, whether or not they have had a previous skin cancer, protect themselves from the sun's harmful ultraviolet rays by seeking shade, wearing protective clothing, and using a broad-spectrum, water-resistant sunscreen with an SPF of 30 or higher.
The AAD also recommends that everyone perform regular skin self-exams to detect skin cancer early, when it's most treatable. Those who notice any new or suspicious spots on their skin, as well as anything changing, itching or bleeding, should see a dermatologist.
"These two guidelines will help doctors provide the best possible care for patients with BCC and SCC," says board certified dermatologist Christopher K. Bichakjian, MD, FAAD, co-chair of the work group that developed the guidelines. "If they are left untreated, some NMSCs may grow and spread, potentially leading to disfigurement and even death. When detected early, however, these skin cancers are highly treatable."
Image: Basal Cell Carcinoma