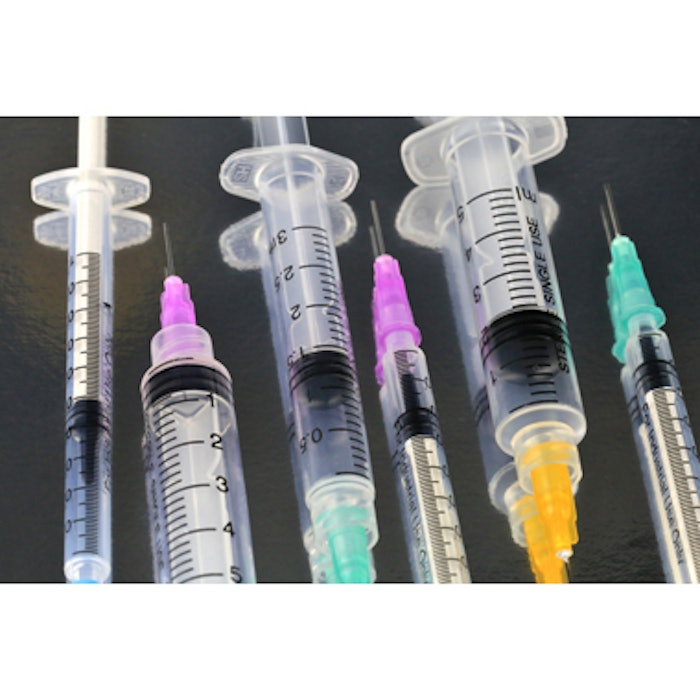 A recent study by Jani AJ Van Loghem, MD, et al, of The Netherlands, found that needle aspiration alone is an inadequate safety measure to prevent inadvertent intravascular injection with soft tissue fillers (STFs). For "Sensitivity of aspiration as a safety test before injection of soft tissue fillers" (Cosmetic Dermatology, February 2018), the researchers performed aspiration with 11 different needle sizes and 24 different STFs using Ringer's lactate (RL) colored with blue skin marking ink and an empty saline bag containing anticoagulated blood, both pressurized to 150 mmHg to mimic arterial blood pressure.
Out of 340 individual aspiration tests, true-positive results were seen in only 33% of the tests within one second of aspiration; that number increased to 63% when a true-positive result was defined as being positive up to 10 seconds after start of aspiration. The authors noted that the test results were influenced by needle diameter, needle length and rheological properties of STFs and recommended additional safety measures including:
Take caution when practicing aspiration as a negative test result (no blood in needle hub) might be false negative and give the injector a false sense of security;
When injecting with a sharp point needle, a retrograde technique should be used when the product is released. In the event that the needle penetrates an artery, only a limited amount of product would then be released intra-arterially;
Avoid large-volume bolus injections with the needle in a static position to avoid occlusion of a large area of the arterial system;
Avoid high-pressure injections as these may lead to retrograde flow against the arterial blood flow into a proximal arterial system (like the ophthalmic artery);
Although nontraumatic cannulas can penetrate arterial walls, use cannulas over needles and with diameters of 25G and larger to reduce the possibility of penetrating arterial walls;
When choosing periosteal bolus injections with a needle, multiple small boluses (0.05 mL per bolus or less) with low pressure should be used;
When injecting in the periorbital area (eg, close to the supratrochlear artery), smaller boluses should be used (<0.04 mL) as intravascular injection in this region can cause blindness.
Image: copyright Getty Images