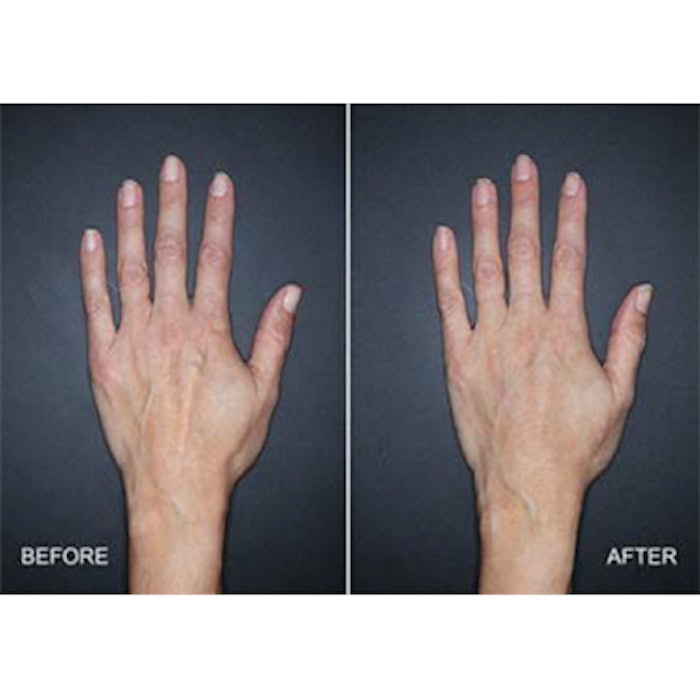 The U.S. Food and Drug Administration (FDA) has approved the hyaluronic acid (HA) dermal filler Restylane Lyft (Nestlé Skin Health) for the correction of age-related volume loss in the back of the hands for patients over the age of 21. It is the first HA injectable gel to be FDA-approved for restoring fullness to the back of the hands.
The approval was based on a multi-center, randomized, evaluator-blinded, split-hand study that included 89 patients age 22 and older. The study met its primary endpoint, showing a clinically meaningful improvement in the correction of volume deficits of treated hands for up to six months. Restylane Lyft was shown to be both safe and well tolerated for the correction of volume deficit in the dorsal hand. After initial treatment, injection site responses (swelling, tenderness, redness, bruising, pain, itching, impaired hand function) were temporary and predominantly mild in intensity.
"This new indication demonstrates Nestle Skin Health's mission to deliver a stream of innovative aesthetic solutions that help bring new patients into the market," said Alisa Lask, general manager and vice president, U.S. Aesthetic Business Unit at Nestlé Skin Health.
Image: Clinical trial subject treated with 3mL of Restylane Lyft in the left hand four weeks after treatment.