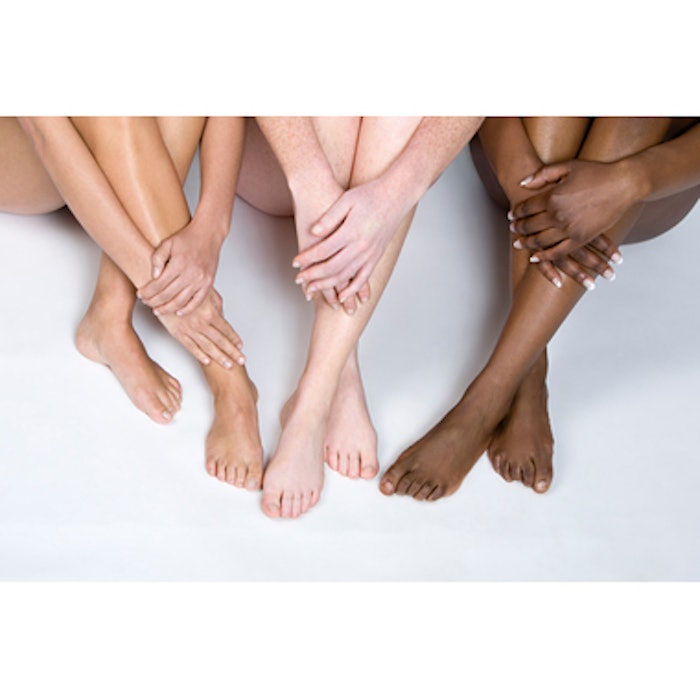 A recent study of Lumenis' Inifinity 1,060nm diode laser revealed that the device is effective and offers a good safety profile for laser hair removal on all skin types. Authors Edward V. Ross, MD, Omar A. Ibrahimi, MD, and Suzanne Kilmer, MD, performed an open‐label, prospective, multi‐center study of 42 adult patients of varying skin types with dark brown or black hairs at the treatment site. Subjects underwent one of two treatment regimens. Sixteen patients had six treatments, spaced four to six weeks apart, using a chilled sapphire tip handpiece. The second group (26 patients) had seven treatments, spaced six weeks apart, using a large spot size, vacuum-based handpiece.
Hair count, hair coarseness and hair color in the treatment area were assessed at baseline and at follow-up visits. An investigator evaluated immediate skin responses and adverse events at every visit, and subjects were asked to report treatment-associated pain levels at each vsit. One subgroup within the large spot size, vacuum‐assisted handpiece-treated group contributed two punch biopsy specimens for histological analysis.
The chilled sapphire tip-treated group experienced a mean of 68 percent, 82 percent and 76 percent skin type‐independent hair reduction in axillae, shin and arm hair, respectively, at six-month follow-up visits. The large spot size, vacuum‐assisted handpiece group had a mean reduction in hair count of 77.9 percent in the axillae and 78.5 percent on the calves at six-months.
Both groups reported high satisfaction with the outcome and tolerable pain levels during treatment. Common post procedural responses included mild-to-moderate erythema and/or edema. The study appeared in Lasers in Surgery and Medicine (May 30, 2018).
Image copyright Getty Images