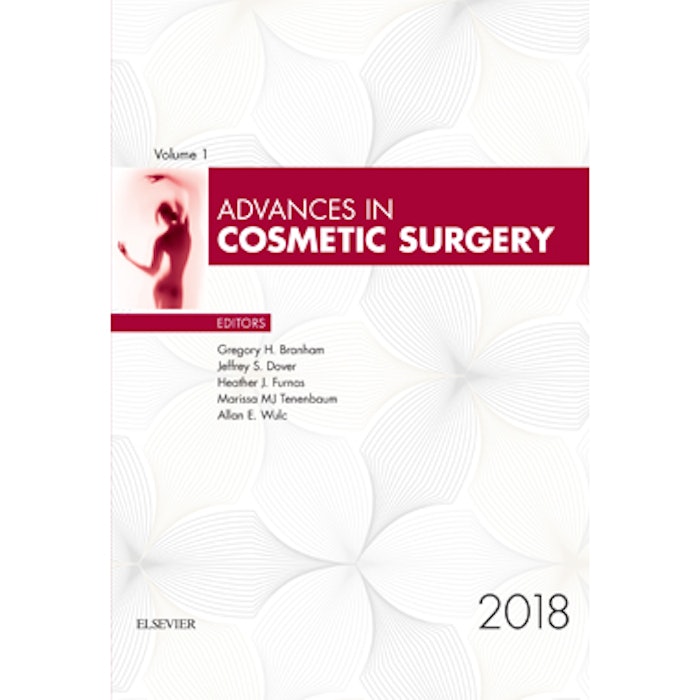 Providers anxious to stay up-to-date on the latest medical aesthetic and cosmetic surgery procedures may want to pick up a copy of Advances in Cosmetic Surgery, the newest addition to Elsevier's "Advances" series of books for medical professionals. The book covers current best practices from preeminent practitioners in plastic surgery, facial plastic surgery, cosmetic dermatology and oculoplastic surgery.
The book's editorial board includes Gregory H. Branham, MD, Jeffrey S. Dover, MD, FRCPC, Heather J. Furnas, MD, Marissa M.J. Tenenbaum, MD, and Allan E. Wulc, MD, FACS, who brought together leading experts to discuss topics, such as filler complications, non-surgical body contouring, non-surgical vaginal rejuvenation, radiofrequency with microneedling, platelet rich plasma, and much more. Several of the articles also include procedural videos that can be accessed through a subscription to the series.
"Advances in Cosmetic Surgery provides practicing cosmetic surgeons with an in-depth look at clinical advancements in the four core specialties—plastic surgery, facial plastic surgery, oculoplastic surgery and cosmetic dermatology—and allows practitioners, educators and researchers to continuously and comprehensively keep pace with this ever-evolving specialty," said Jessica McCool, senior clinics editor for continuity, Elsevier.
For more information, visit www.elsevier.com