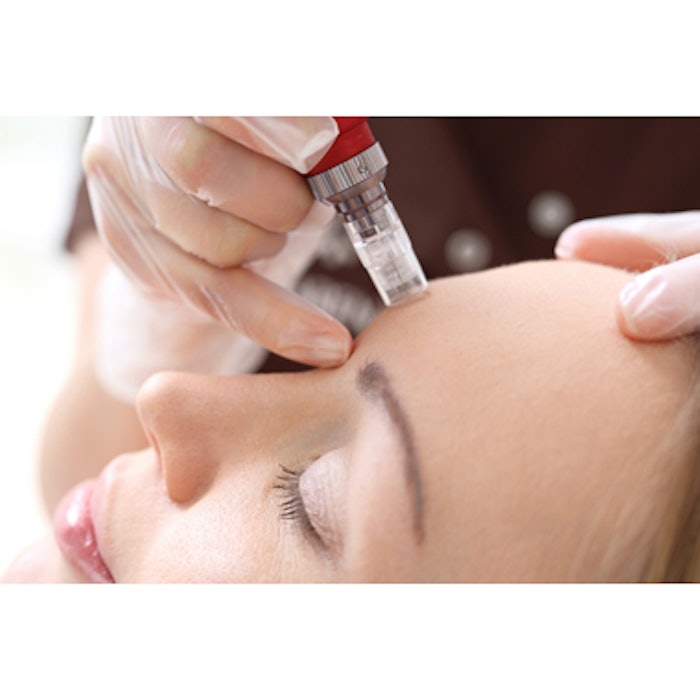 A recent study involving 48 subjects found that four sessions with an automated microneedling device significantly improved skin laxity, skin texture and wrinkles with maximum effect seen 150 days following treatment.
For her study, "Safety and Effectiveness of an Automated Microneedling Device in Improving the Signs of Aging Skin (Journal of Clinical and Aesthetic Dermatology, August 2018), Glynis Ablon, MD, FAAD, treated 48 subjects ages 39 to 67 years (Fitzpatrick skin types I to V with a mean of 2.2) with the Exceed automated microneedling device (Amiea Med). Skin texture, skin laxity, and wrinkle depth and severity were assessed at baseline and before subsequent microneedling sessions at 30, 60 and 90 days. A final assessment of treatment outcomes was conducted 150 days after the first treatment.
Wrinkles for nine separate facial areas were assessed by the physician using the Lemperle grading scale. Skin laxity and texture were assessed using a modified Alexiades-Armenakas Grading Scale, and skin topography in the periorbital and mesolabial areas was assessed using PRIMOS digital fringe projection and VISIA photography.
Treatments were spaced 30 days apart, and Dr. Ablon used the following needle depths to achieve pinpoint bleeding: forehead 0.7 to 1.0mm; cheek 0.9 to 1.5mm; eye area 0.5 to 0.8mm; chin 0.9 to 1.3mm; glabella and jawline 0.7 to 1.3mm; upper lip 0.7 to 1.0mm.
Baseline scores and range for wrinkles, skin laxity and skin texture were 3.2 (2.2–4), 2.8 (2–3.5), and 2.7 (1.5–3.5), respectively. At Day 90, glabella frown lines, periorbital lines, cheek folds, and upper lip lines had improved by at least one grade. At Day 150, horizontal forehead lines, glabella frown lines, periorbital lines, cheek folds, upper lip lines, and labiomental crease has improved by at least one grade, and mean improvements were observed for all roughness parameters in both the periorbital and mesolabial regions.
There were no serious adverse events (AEs). Of the nine AEs, eight were herpes simplex labialis outbreaks and one subject complained of excessively dry skin following treatment
Image copyright Getty Images