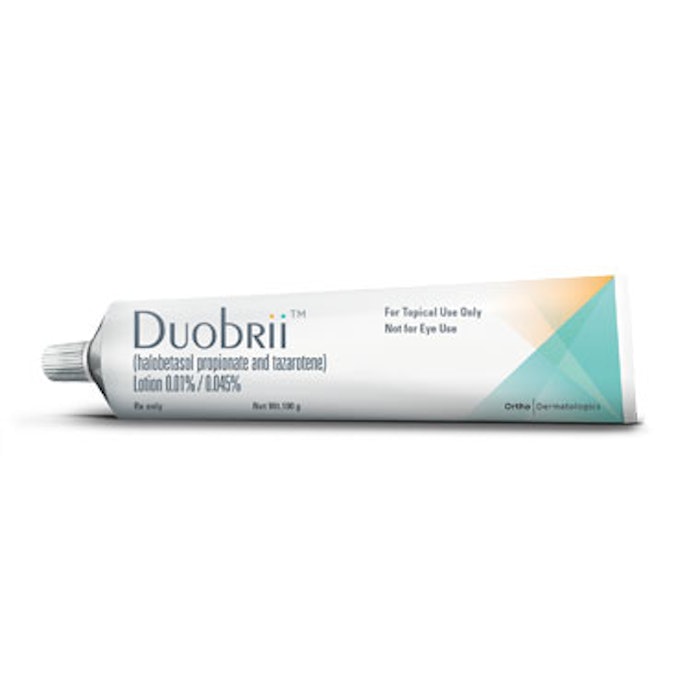 The U.S. Food and Drug Administration (FDA) has approved the New Drug Application for Ortho Dermatologics' DUOBRII (halobetasol propionate and tazarotene) Lotion, 0.01%/0.045%, indicated for the topical treatment of plaque psoriasis in adults. The company expects the topical lotion, which is the first and only topical that contains a unique combination of halobetasol propionate and tazarotene in one formulation, to be commercially available in June 2019.
A Phase 2 study demonstrated DUOBRII Lotion was consistently more effective than its individual agents and vehicle in achieving treatment success (defined as at least a two-grade improvement from baseline in an Investigator Global Assessment (IGA) score, and 'clear' or 'almost clear' skin) and reducing psoriasis signs of erythema, plaque elevation and scaling at the target lesion.
The safety and efficacy of the once daily use of DUOBRII for the treatment of plaque psoriasis were assessed in two Phase 3 prospective, multi-center, randomized, double-blind clinical trials in subjects 18 years and older with moderate to severe plaque psoriasis.
Studies 1 and 2, which enrolled a total of 418 patients, showed DUOBRII was consistently more effective than vehicle in achieving treatment success (primary endpoint at eight weeks), demonstrating statistically significant superiority by week four in study 1 and week two in study 2. At week eight, 36 percent (study 1) and 45 percent (study 2) of the treatment group had achieved the primary efficacy outcome, compared to seven percent and 13 percent on vehicle. The majority of responders maintained treatment success over the four-week post treatment period. The most common adverse events in clinical trials included redness, itching, swelling, burning, stinging, application site pain, inflamed hair follicles (folliculitis), thinning of the skin (atrophy), peeling and rash.
"DUOBRII provides the known benefits of a potent topical corticosteroid and a topical retinoid with synergistic efficacy. Combination therapy is the mainstay of topical treatment for plaque psoriasis, making DUOBRII an important new option," said Linda Stein Gold, MD, director of dermatology clinical research at the Henry Ford Health System. "Although effective, topical retinoids have had limited use as monotherapy due to tolerability concerns. DUOBRII provides improved local tolerability, allowing patients to benefit from an extended duration of use."