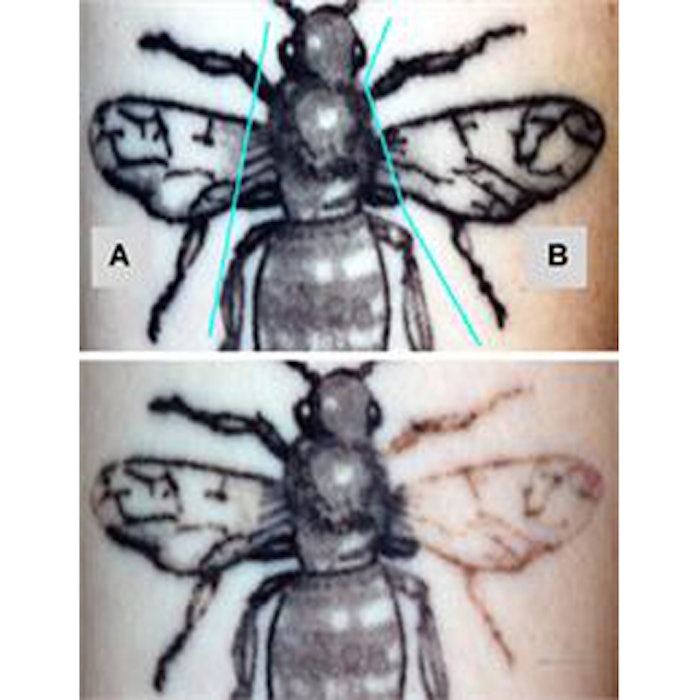 A recent study published in Lasers in Surgery and Medicine (October 2019) showed that when Rapid Acoustic Pulse (RAP) technology is applied for one minute after each Q-switched (QS) laser tattoo removal pass, it clears the whitening caused by the previous QS laser pass. This allows practitioners to perform additional effective laser passes immediately. According to the authors, because multiple laser passes can be effectively performed in a single session, a tattoo that might take 10 office visits under the current standard of care to remove could be done in as little as two to three office visits using RAP.
Michael S. Kaminer, MD led the study, entitled "Increased Tattoo Fading in a Single Laser Tattoo Removal Session Enabled by a Rapid Acoustic Pulse Device: A Prospective Clinical Trial." He and his co-authors treated a total of 32 black ink tattoos from 21 participants. They divided the tattoos into three zones. Zone one received multiple QS laser passes, each followed by one minute of RAP (Laser + RAP). Zone two was treated with a single‐pass QS laser (Laser Only) and zone three—in the middle—acted as an untreated control zone.
The treating physicians assessed outcomes at six weeks and 12 weeks following the treatment session. Three blinded reviewers assessed photographs of the treatment sites for percent fading at 12 weeks post‐treatment.
In the Laser + RAP zone, an average of 4.2 laser passes were delivered in a single session with no unexpected or serious device‐related adverse events. At the 12‐week follow‐up, tattoos treated with Laser + RAP showed a statistically significant increase in average fading (44.2 percent) compared with the Laser‐Only zone (24.8 percent). In addition, the proportion of the tattoo that showed >50 percent fading was significantly greater in the Laser + RAP zone (37.5 percent vs. 9.4 percent in the Laser Only zone).
"Currently, removing a tattoo can take up to 5 to 15 laser sessions over a one- to two-year period. We were looking for a way to speed up the process by reducing the number of office visits required to remove a tattoo. A faster removal process will improve the laser tattoo removal experience and improve the ultimate satisfaction of both patients and clinicians," said Dr. Kaminer.
Image of tattoo treated with Laser Alone and RAP+Laser (Courtesy of the American Society for Laser Surgery and Medicine)