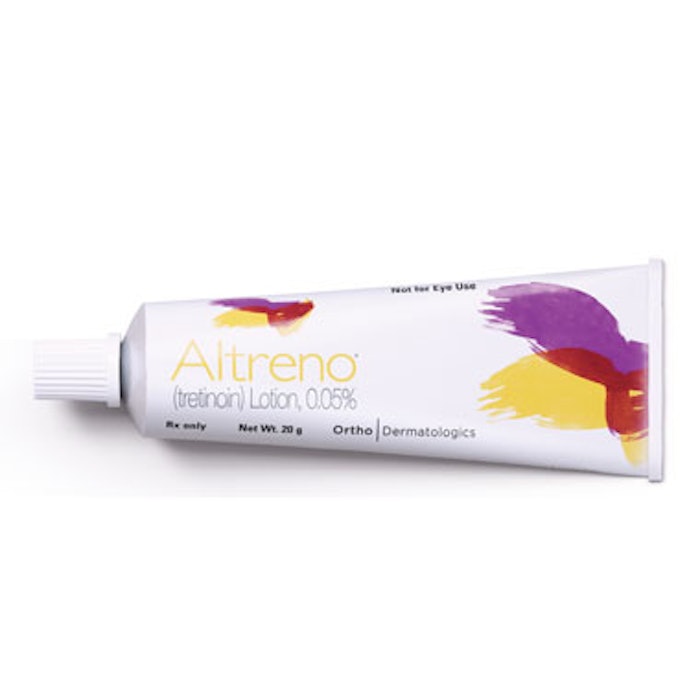 Ortho Dermatologics has introduced a 20-gram size of its ALTRENO (tretinoin) Lotion, 0.05%, exclusively for dispensing in dermatologists' offices. Launched in October 2018, ALTRENO Lotion is a tretinoin-based lotion indicated for the treatment of acne that has been shown to be effective and generally well tolerated.
Ortho Dermatologics developed the 20-gram tube to improve patient compliance with treatment by ensuring that patients leave the office ready to begin their acne regimen. Lack of compliance remains one of the biggest obstacles for dermatologists in achieving successful acne clearance for their patients. While medications are often effective in combating the disease, their full benefits are often not realized since many patients do not fill their prescription due to cost and/or inconvenience. Many physicians endorse dermatologist-dispensed drugs since they place the drug directly into the patient's hands, helping to bypass this concern.
"We like having a derm-dispensed option in our office," said Florida-based dermatologist, Leslie Baumann, MD. "I believe there is a link between an office visit and compliance when the patient can leave with the recommended medication in hand. Life is full of distractions and making a drug available in the office helps to ensure that the patient will use it in the way it has been prescribed. And, there is an enhanced possibility that use of the drug will begin that day. This means the patient will be able to see results sooner. We dispense several brands in our office specifically for this reason."
For more information, visit www.altrenohcp.com.