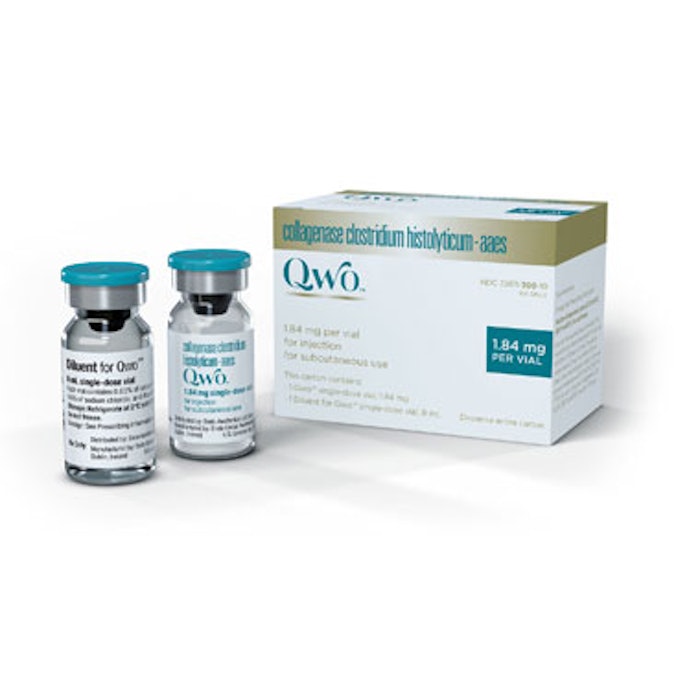 Endo International has received U.S. Food and Drug Administration (FDA) approval of QWO (collagenase clostridium histolyticum-aaes) for the treatment of moderate to severe cellulite in the buttocks of adult women. QWO is the first FDA-approved injectable treatment for cellulite. When injected into the treatment area, QWO enzymatically releases the fibrous septae that tether to the skin causing the dimpling of cellulite by specifically targeting Types 1 and 3 collagen.
"Endo recognized a significant unmet need for an effective and noninvasive injectable treatment for cellulite, which led us to conduct the largest clinical trials in the history of cellulite investigation in the United States," said Matthew Davis, MD, RPh, senior vice president and chief medical officer of Endo. "Supported by rigorous research, testing and development processes, we are proud to have received FDA approval of the first injectable treatment for cellulite in the buttocks, and we look forward to delivering QWO to the aesthetics community and their adult female patients."
The company expects to have QWO available throughout the United States starting in Spring 2021. For more information and to sign up for updates on product availability, visit www.QWO.com.