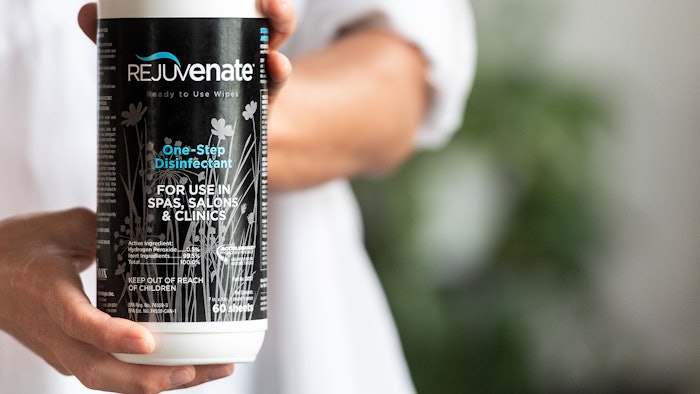 Courtesy of Virox Technologies
Virox Technologies has launched new Special Edition Disinfectant Wipes and a "Peel and Reveal" contest with over $75,000 worth of prizes available.
The Special Edition Rejuvenate Wipes disinfect in as little as one minute with the safe, eco-friendly, EPA- registered hospital grade Rejuvenate Disinfectant. They are approved for use against SARS-CoV-2, the virus that causes COVID-19, and other pathogens of concern, including influenza, athlete's foot and nail fungus.
There are 60 wipes per canister, and they are available for purchase in single canister quantities or in a case of six. 
"We are all ready to get back to a normal routine, and likely deserve a bit of pampering from our spa services such as hair, nails and massage. We believe the elevated role Rejuvenate Disinfectants took during the pandemic in protecting clients and staff must continue. A  professional beauty experience includes feeling safe and protected within the environment clients are serviced and staff work. Our company is committed to ensuring a safe, effective, hospital grade disinfectant is accessible to all spa and salon professionals," said Jackie Harris, executive director of marketing & customer success, Virox Technologies.
The special edition wipes come with a "Peel and Reveal" contest sticker on the canister, with a chance to win on every canister. The contest is open to professional nail technicians, hairstylists, registered massage therapists and spa professionals (18+), and ends 11:59 PM ET on 12/07/2021. To enter, complete the entry form with the unique code found under the sticker.