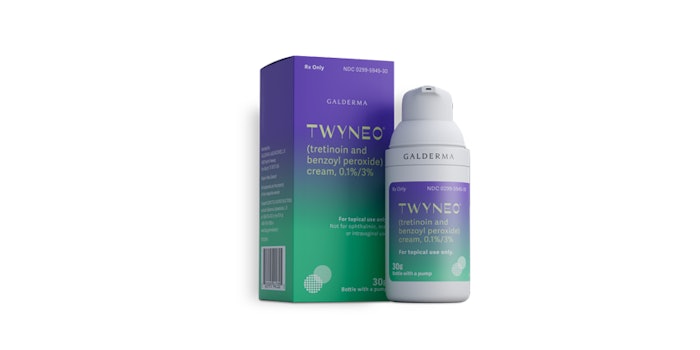 Courtesy of TWYNEO
Galderma announced the U.S. launch of its TWYNEO (tretinoin and benzoyl peroxide) Cream, 0.1%/3% at the American Academy of Dermatology (AAD) Annual Meeting, March 25-29, 2022, in Boston, Massachusetts.
TWYNEO Cream is the first 0.1% tretinoin and 3% benzoyl peroxide (BPO) 2-in-1 combination topical FDA approved for moderate to severe facial acne. 
"Effective prescription acne treatments currently involve multi-step regimens because there is rarely a single treatment option that addresses the multiple causes of the skin condition. These routines can often result in low adherence, especially among boys," said Caroline Robinson, MD, FAAD, founder of Tone Dermatology. "TWYNEO Cream may help teens with acne, especially the boys, struggling with generic tretinoin or adhering to complex treatment routines, since it's a once-daily, potent combination that can be used any time of day."
During the clinical trials, some participants saw results in two weeks using TWYNEO Cream, and their skin continued to clear over time. These studies demonstrated a 25% decrease in pimples at two weeks and a 58% to 66% decrease at 12 weeks; with 27% to 41% of people achieving clear or almost clear skin by the end of the trial. 
"As a regimen in a bottle that combines two of the most trusted first-line treatments for acne, TWYNEO Cream is truly a breakthrough for teens and their parents looking for an acne treatment that fits within a simple skincare routine and provides rapid, noticeable results," said Heather Chase, head of Rx marketing and customer experience, Galderma U.S. "TWYNEO Cream is another example of Galderma's commitment to providing cutting-edge treatments to advance dermatology for every skin story."