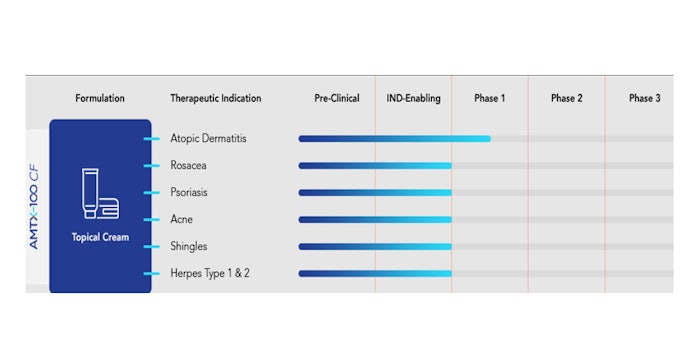 Courtesy of Amytrx Therapeutics
Amytrx Therapeutics has announced has reached $18 million in Series A financing with participation from both existing and new investors.
Amytrx is a mission-driven biopharmaceutical company dedicated to transformative and cutting-edge immune-modulating therapeutics that safely alter the course of chronic inflammatory disorders.
The $18 million was raised to continue clinical research on the use of its next-generation anti-inflammatory therapeutic peptide platform, AMTX-100, across several skin inflammatory disorders in adults and adolescents.
Atopic dermatitis (AD) is the most common chronic inflammatory skin disease, affecting nearly 17 million adults in America. Nearly 85% of disease cases typically start in infancy or childhood, with the remainder developing during adulthood.
In its development, AMTX-100 has proven to have potential in preclinical and clinical studies addressing AD, psoriasis, rosacea, lupus, acne, shingles and herpes.
"We are counting on success in our Phase 2 in atopic dermatitis clinical trial as we move forward and begin a seamless transition toward our future goals in other immune mediated disorders," said Amytrx chief business officer Randall Riggs. "We also see the promise of a new localized treatment for adolescents with a therapeutic that doesn't suppress the immune system like many topical steroids on the market. Instead, we use a normal cellular process to modulate and bring about resolution to symptoms using molecules containing amino acid sequences already present and easily metabolized by our bodies."