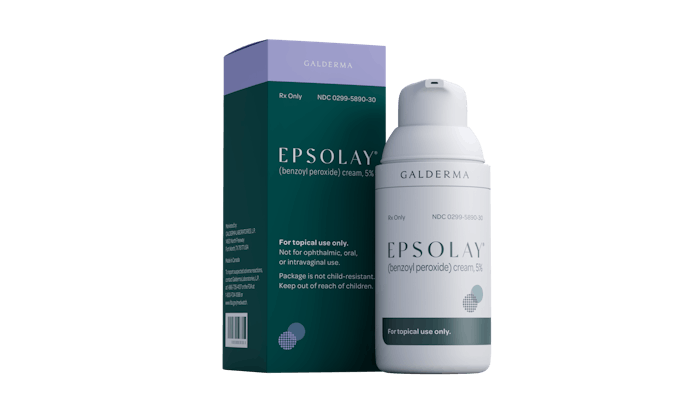 Courtesy of Galderma
Galderma's EPSOLAY Cream (benzoyl peroxide), 5%, is now available in the U.S. following approval by the U.S. Food and Drug Administration (FDA) on April 22, 2022.
EPSOLAY Cream is the first and only microencapsulated benzoyl peroxide (E-BPO) topical treatment proven to relieve the bumps and blemishes of rosacea and provides rapid, significant and sustained relief.
Over 16 million people in the U.S. struggle with rosacea, a chronic and recurrent skin condition that can worsen over time. More than 82% of people feel their rosacea is uncontrolled.
In clinical trials, EPSOLAY Cream reduced bumps and blemishes of rosacea by up to 43.7% in two weeks and by nearly 70% in 12 weeks. 
EPSOLAY Cream gradually releases benzoyl peroxide onto the skin, making it suitable and well-tolerated for the sensitive skin of rosacea patients. In a 52 week long-term safety study, side effects were mostly mild in nature. 
In 12 week trials, almost 50% of participants who used EPSOLAY Cream in the trial were clear or almost clear by 12 weeks. The most common side effects in participants treated with EPSOLAY Cream were pain, erythema (redness), pruritus (itching) and edema (swelling), occurring all at the application site.
"Until now, BPO has never been indicated to treat rosacea in part due to its poor tolerability for sensitive skin. EPSOLAY Cream helps overcome tolerability issues via its patented microencapsulation technology which controls the gradual release of BPO onto the skin," said Ted Lain, MD, Executive Director, Austin Institute for Clinical Research and principal investigator for the EPSOLAY Cream clinical trials. "EPSOLAY Cream showed great efficacy and tolerability in the pivotal trials, as evidenced by high patient satisfaction and compliance."
Ingredients: (Active) Benzoyl Peroxide; (Inactive) Anhydrous Citric Acid; Cetrimonium Chloride; Cetyl Alcohol; Cyclomethicone; Edetate Disodium; Glycerin; Glyceryl Mono (and) Dipalmitostearate; Hydrochloric Acid; Lactic Acid, Unspecified Form; Peg-100 Stearate; Phenoxyethanol; Polyquaternium-7 (70/30 Acrylamide/Dadmac; 1600000 Mw); Silicon Dioxide; Sodium Hydroxide; Water (Aqua).