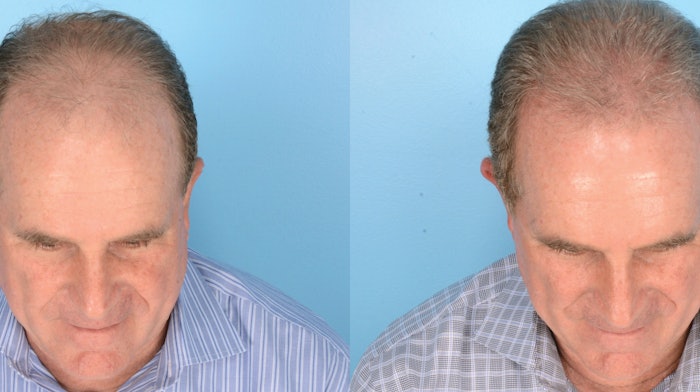 Courtesty of Alan J. Baumann, MD
Hair loss and thinning hair affect virtually all men and women as they age. For those affected in their earlier years, the change in physical appearance can be devastating. The main treatment options available have been daily oral or topical medications and hair transplant surgery for suitable candidates. But today, regenerative medicine—including the use of platelet-rich plasma, stem cells and exosomes—is bringing new minimally invasive options to the table.
We spoke with hair restoration specialists Alan J. Bauman, MD, of Bauman Medical, Boca Raton, Florida, and Bessam Farjo, MD, of the Farjo Hair Institute in Manchester and London, UK, to learn more about how they are using these treatments in their practices as well as what's on the horizon.
One thing all these treatments have in common is that they are most effective in the early stages of hair loss. "To rejuvenate hair sufficiently, you need to catch the hairs before the point of no return, because you need enough hair to regenerate," says Dr. Farjo. "Therefore, these treatments are most effective for men and women who are at an earlier age and at an early stage of hair loss, meaning the hair loss started in the last few years, as opposed to those who have been losing hair for the past 20 years."
Continue reading the different treatment options for hair restoration including PRP, exosomes and more in our Digital Magazine...
Inga Hansen is the managing editor of MedEsthetics.