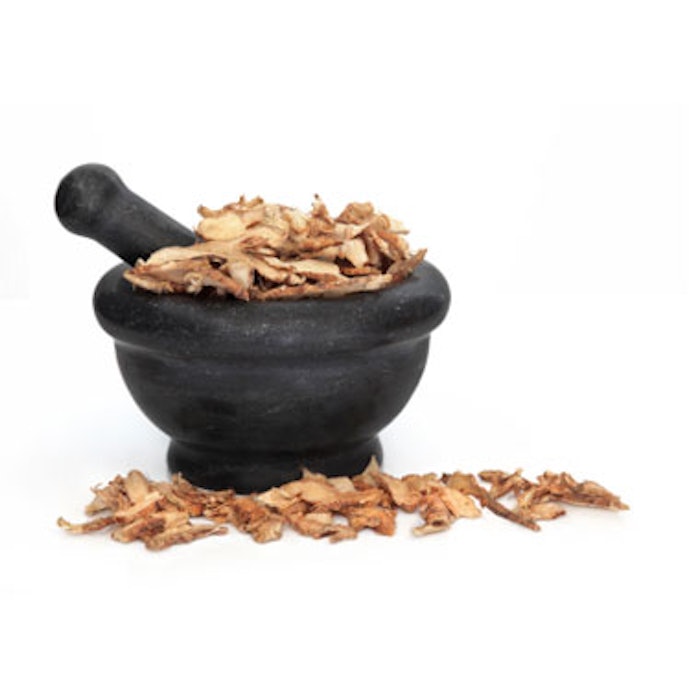 According to recent review study published online in the Journal of the American Academy of Dermatology (November 25, 2013), several botanical ingredients have shown effectiveness in the treatment of epidermal-confined hyperpigmentation, and consistently improved epidermal melasma, subclinical photoaging and acute pigmentation induced by UV exposure.
Whitney A. Fisk, et al, of the University of California –Davis, School of Medicine, reviewed 26 studies in MEDLINE and Embase databases. Search terms included "phytotherapy, plant medicinal product, herbal medicine, hyperpigmentation, complementary therapy" and "melasma."
The studies revealed that superficial hyperpigmentation and epidermal melasma—induced by ultraviolet radiation exposure—were effectively lightened by plant extracts and phytochemicals. However, treatment for solar lentigines or dermal hyperpigmentation had mixed results.
The botanical ingredients that showed the highest efficacy in lightening epidermal hyperpigmentation included licorice root, antioxidants and soy extract. In addition, several botanicals, including glechoma hederacea and soy extract helped to prevent hyperpigmentation due to their antioxidant and anti-inflammatory effects. "Thus, some botanicals may be more appropriately used as preventive, rather than therapeutic, agents," wrote the authors, who noted that the lack of rigorously designed studies was a limitation and future research is needed.
"Dermatologists should be aware of the evidence to support or avoid the use of botanically derived products in the treatment of hyperpigmentation," the researchers concluded. "Assessment of the subtype and the depth of hyperpigmentation are critical in determining the success of treatment, regardless of whether this includes standard or botanical therapies…all patients should be counseled on the importance of … sun-protective habits, as this is the cornerstone to any treatment regimen against hyperpigmentation."
Image copyright istockphoto.com