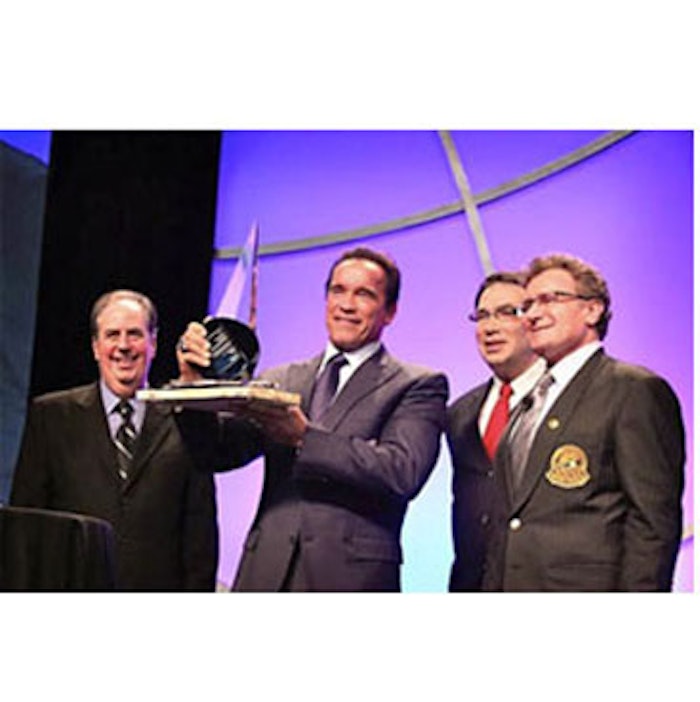 Actor, body builder and former California Governor Arnold Schwarzenegger was honored as the recipient of the 2013 Infinity Award by the American Academy of Anti-Aging Medicine (A4M). Schwarzenegger accepted the award during A4M's 21st Annual World Congress on Anti-Aging, Aesthetic and Regenerative Medicine in Las Vegas in December.
The Award was bestowed in recognition of Schwarzenegger's early leadership role in securing landmark funding in the area of stem cell research. During his term as Governor, he piloted an initiative to direct $3 billion in government funds to the field of stem cell research. In addition, the Award recognizes Schwarzenegger's lifetime of accomplishments as a champion bodybuilder, Hollywood action star, successful businessman, environmentalist, philanthropist and best-selling author.
Robert Goldman, DO, and chairman of A4M noted that Schwarzenegger served as chairman of the President's Council on Physical Fitness & Sports, founded the Inner City Games and After-School All-Stars charity, and has been a long time supporter of freedom in healthcare, freedom of choice, and a wide array of healthcare-based approaches in anti-aging, regenerative, functional, alternative, sports and nutritional medicine.
"I have been honored to know Arnold as a close friend for over 30 years, and there is nothing he cannot achieve," said Goldman. "His contributions to health, fitness and freedom of healthcare choice are unparalleled."
The A4M Infinity Award recognizes individuals whose achievement, dedication and foresight have significantly advanced longevity science for the benefit of the world.
Governor Schwarzenegger joins an elite group of past A4M Infinity Award recipients, including: Dr. Linus Pauling (Nobel Laureate in Medicine), Dr. Raymond Damadian-developer of the MRI), Dr. Peter Safar (creator of CPR, Cardiopulmonary Resuscitation), Senator John Glen (astronaut and space medicine), Dr. Nathan Pritikin (Coronary Heart Disease prevention), and Dr. Denham Harman (creator of the Free Radical Theory of Aging).
Click here to see Arnold Schwarzenegger's acceptance speech: http://www.medestheticsmagazine.com/arnold-schwarzenegger-receives-infin...