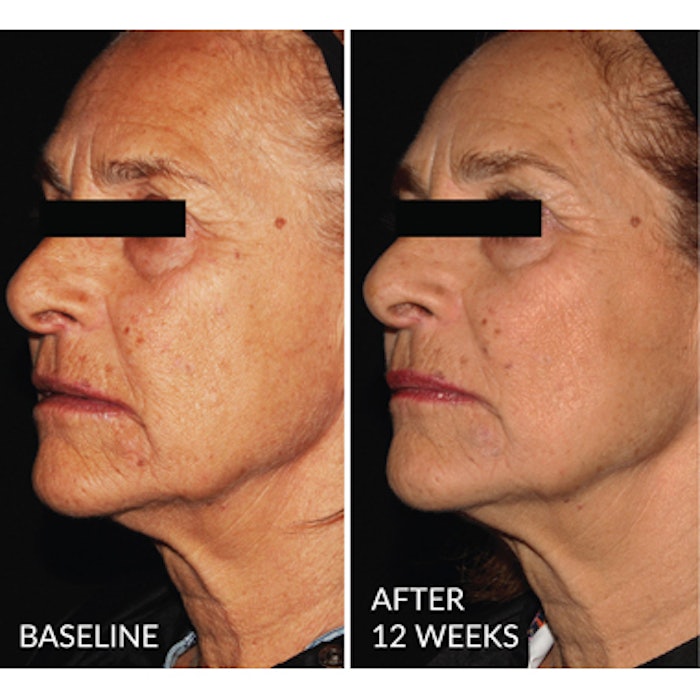 Patients who used an antiaging skincare line containing alpha-defensin 5 and beta-defensin 3 (DefenAge) for 12 weeks had significant improvement in fine lines, coarse wrinkles, pore size and visible pigmentation compared to those who received a placebo formulation, according to new study published in the Journal of Drugs in Dermatology (April 2018).
Amy Taub, MD, et al, performed a multi-center, double-blind, vehicle-controlled clinical trial that included 44 female subjects (41 to 71 years old, skin types I-IV). Two thirds of subjects used the three-product DefenAge line and one-third received a placebo formulation. All subjects used the same daily cleanser and sunscreen.
The researchers evaluated outcomes at baseline, 6 weeks and 12 weeks using histopathology and immunohistochemistry (7 subjects), plus clinical evaluation of pores, superficial and deep wrinkles based on Griffiths scale, and high-resolution photography (all subjects). In addition, they evaluated a subset of 15 patients using 3D imaging and ultrasound to rate pores, oiliness, TEWL, elasticity, color and skin hydration.
Histology and ultrasound revealed a significant increase in epidermal thickness in the treatment group that was not seen in the placebo group. (No excessive cell proliferation was detected in either group.) There was also a statistically significant reduction in visible pores, superficial wrinkles, oiliness and pigmentation. The authors noted a "trend for improvement" in skin elasticity, TEWL and hydration, although the improvement was not statistically significant.
"The results showed that the defensin-containing trio of products offers most of the advantages of time-honored retinols as well as newer but widely used growth-factor containing cosmeceuticals, without irritation or inflammation, sun-sensitivity, or concerns about neoplasia of the treated skin," said co-author Vivian Bucay, MD.
Image courtesy of Vivian Bucay, MD/ Journal of Drugs in Dermatology.