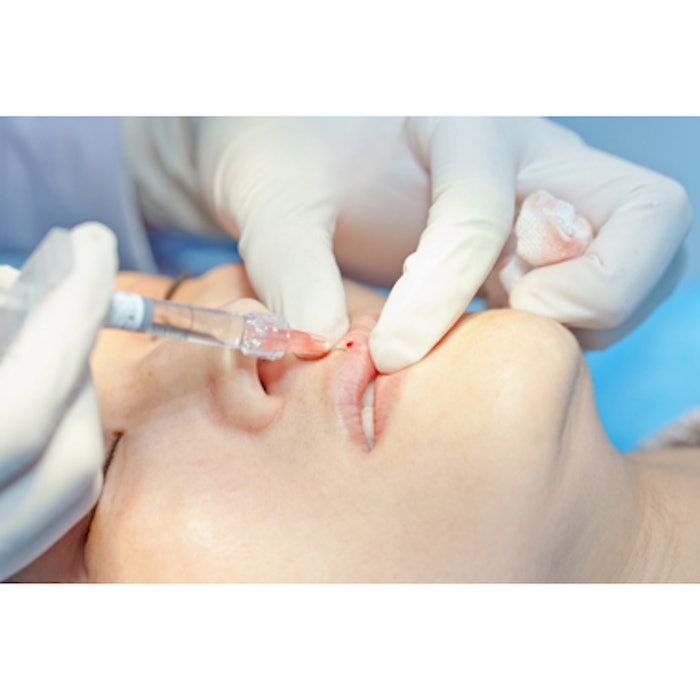 Hyaluronic acid filler injections can cause persistent and recurring nodules that require combination therapies to clear. And products with a high degree of cross-linking may be more difficult to disintegrate with hyaluronidase. Authors Meredith L. Orseth MD, Nicole Lee MD, Omer Ibrahim MD, Kenneth A. Arndt MD, and Michael Kaminer MD, published two case studies of patients who experienced nodule formation after treatment with an HA filler (Journal of Drugs in Dermatology, May 2018).
The first case involved a 65-year-old woman treated with 1 ml of Restylane-L in the marionette lines and oral commissures in 2011. Two weeks after injection, she developed a tender nodule on the left jawline. Despite treatment with hyaluronidase mixed 1:1 with normal saline for a total of 0.4 mL (30 units), oral doxycycline (100mg twice daily) and clindamycin (150mg twice daily), she continued to develop additional nodules along her mandible and chin.
The nodules cleared after several months of treatment, and she continued to undergo HA filler treatments without incidence until 2016 when she underwent a root canal one month after Restylane Silk injections (2 ml) to the upper cutaneous lip and nasolabial folds and began to develop nodules in the left marionette area.
The nodules, which revealed Staphylococcus Epidermidis growth, resolved following treatment with intralesional triamcinolone (40 mg/kg), hyaluronidase (150 USP/mL) and 5-fluoruracil (50 mg/mL) in a 1:1:1 ratio.
The second case involved a 69-year-old woman who experienced erythematous, tender nodules on the left cheek one month following Juvéderm Voluma injections (1mL). Each of the nodules was fully resolved following treatment with 2.3 mL of undiluted hyaluronidase and oral clarithromycin 500mg twice daily.
In discussing risk factors and treatment challenges, the authors note that "triggering factors, such as dental procedures, infections and trauma" are more likely to cause nodules than slow-growing bacteria and biofilm formation as bioengineered HA has both antiadhesive and antibiofilm properties.
They recommend that practitioners discuss the risk and recurrent nature of nodules with patients and advise them to avoid dental procedures for at least two weeks pre- and postprocedure. They further advise beginning nodule treatment with hyaluronidase to remove the implanted product, noting that HA fillers with a high degree of crosslinking may be more difficult to disintegrate with hyaluronidase and therefore may require larger volume, undiluted injections. If there is an anti-inflammatory component, add an oral antibiotic. If nodules persist, "we have found success with a combination of intralesional triamcinolone (40 mg/kg), hyaluronidase (150 USP/mL) and 5-fluoruracil (50 mg/mL) in a 1:1:1 ratio," the authors wrote.
Image copyright Getty Images