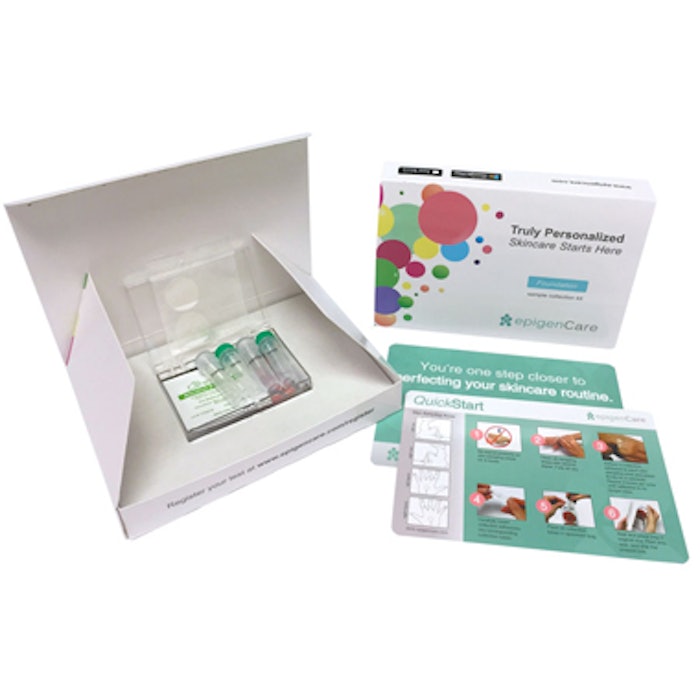 EpigenCare, developer of an at-home test for epigenetic markers of the skin, has filed a patent application for its technology as "A method of creating epigenetic skin profile associated with skin quality." Specifically, the patent outlines a technique to develop a skin profile from biological samples through epigenetic markers that are associated with skin quality.
The patent application covers a noninvasive sample collection method from the surface of the skin to be subsequently assessed through methylation-specific sequencing. A panel of epigenetic markers associated with skin quality and appearance is specifically measured for their DNA methylation levels to generate an individualized profile of the current quality of one's skin.
"The filing indicates EpigenCare's intention to develop a strong intellectual property portfolio, which will effectively protect the unique innovation of our epigenetic skin test when it enters the retail market," says Adam Li, inventor of the method and chief scientific officer at EpigenCare.
The company uses epigenetics—the study of biological mechanisms that can turn genes on or off –to develop consumer skin quality profiles and use an ingredient-based A.I. (artificial intelligence) system to match existing products on the market to the profiles. It recently won a digital beauty competition hosted by Johnson & Johnson Innovation and is currently in its fundraising stage.
Image: EpigenCare's prototype test kit