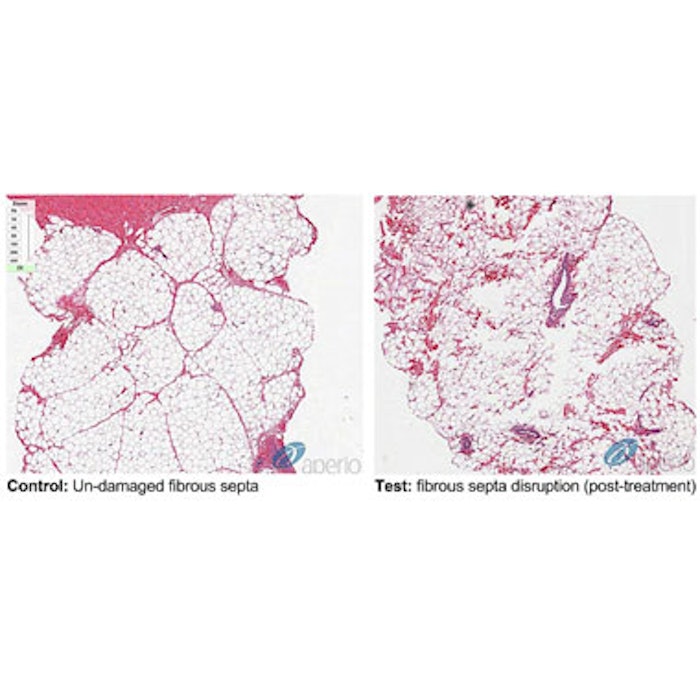 Soliton's RAP (rapid acoustic pulse) device, initially developed for tattoo removal treatments, may be effective in reducing the appearance of cellulite. Results of proof-of-concept, preclinical studies on the use of a new version of the company's acoustic pulse technology reveal that, in addition to the RAP device's demonstrated ability to stimulate collagen, the technology also appears to be capable of selective disruption of the fibrotic septa that contribute to the appearance of cellulite. A process referred to as "acoustic subcision."
The studies, conducted by Michael Kaminer, MD, at SkinCare Physicians in Chestnut Hill, Massachusetts and Elizabeth Tanzi, MD, at Capital Laser & Skin Care in Washington D.C., were designed to evaluate the safety and efficacy of RAP for the reduction of cellulite.
Histology performed before and after a single, two-minute treatment with the modified RAP device demonstrated selective mechanical disruption of the septa with little evidence of unintended damage to surrounding tissues, such as blood vessels or muscle. The company notes that in the proof-of-concept clinical trial, 97 percent of the treatments were rated as having zero pain.
"While the proof-of-concept clinical trial results we have recently announced regarding the improvement in the appearance of cellulite have been very encouraging, understanding the basic science and biology behind these results is very important," said Chris Capelli, MD, president and CEO of Soliton. "We believe the discovery we are outlining here helps explain the promising results we saw from this trial, as well as setting the foundation for a platform technology that may have potential in a number of aesthetic indications."
Omer Ibrahim, MD, of Chicago Cosmetic Surgery and Dermatology will present 26-week data from the cellulite clinical trial at The Aesthetics Show in Las Vegas, Nevada, to be held July 11-14, 2019. He performed the long-term follow-up to the proof-of-concept study in collaboration with Dr. Kaminer.
"We believe the proof-of-concept data is impressive. Ninety-seven percent of the treatments, which required no anesthesia, were rated as creating 'zero pain,' and none of the patients experienced any bruising or post-treatment discomfort or downtime," said said Capelli. "If these results are demonstrated in a future larger pivotal clinical trial, we believe our technology may represent a major advancement in the treatment of cellulite."
The company plans to initiate a larger pivotal clinical trial within a few months and file an additional 510(k) application with the U.S. Food and Drug Administration (FDA) for the use of RAP technology to improve the appearance of cellulite. The device was cleared for use in tattoo removal May 24, 2019.
Image: Histology images from an animal (pig) model comparing untreated skin sample (control) and treated sample (taken after a single 2-minute treatment with the modified RAP) showing selective mechanical disruption of the septa.