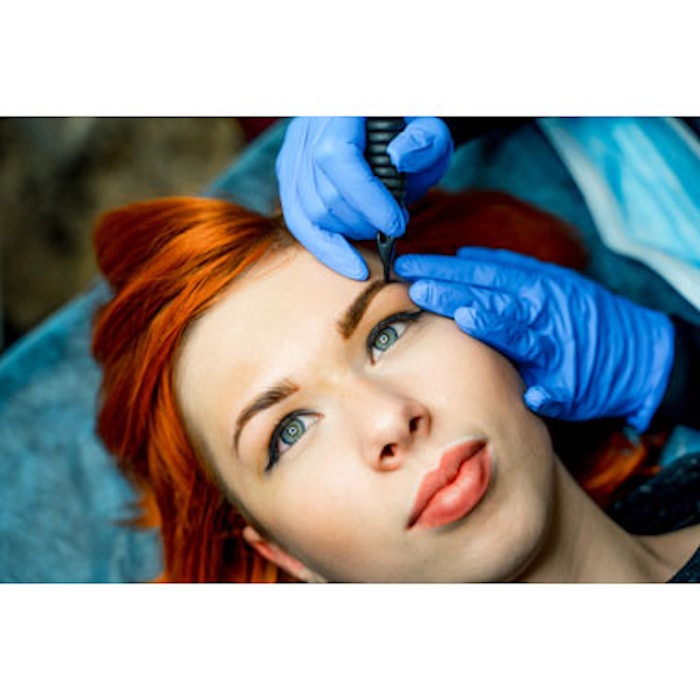 Skin of color patients who would like to remove their brow tattoos may have a new treatment available. A pilot study by Farah Moustafa, MD, et al, showed that treatment with a dual-wavelength (1,064nm/532nm) picosecond laser combined with a Perfluorodecalin (PFD)‐Infused patch is both safe and effective.
The physicians treated four patients with skin types III–IV with a dual‐wavelength picosecond Nd:YAG laser using the 1,064nm wavelength with a 3mm spot size and fluence of 4–4.6 J/cm2. One patient (Patient 2) also received treatment with the 532nm wavelength (4mm spot size and fluence of 0.5 J/cm2). Three patients underwent a single treatment session. One patient (Patient 1) had a total of three treatments spaced six to eight weeks apart.
Patient outcomes were: 75 percent clearance in patient 1 after three treatments over a period of 2.5 months, 75 percent clearance in patient 2 after one treatment, 90 percent clearance in patient 3 after one treatment and 100 percent clearance in patient 4 after one treatment. All patients experienced mild and transient localized erythema and edema immediately following each laser treatment as well as some epidermal crusting for three to five days following treatment. Eyebrow hair growth was not affected and no serious or unexpected adverse events were reported.
The study was published in Lasers in Surgery and Medicine (online December 11, 2019)
Image copyright iStock.Com/Vadym Terelyuk