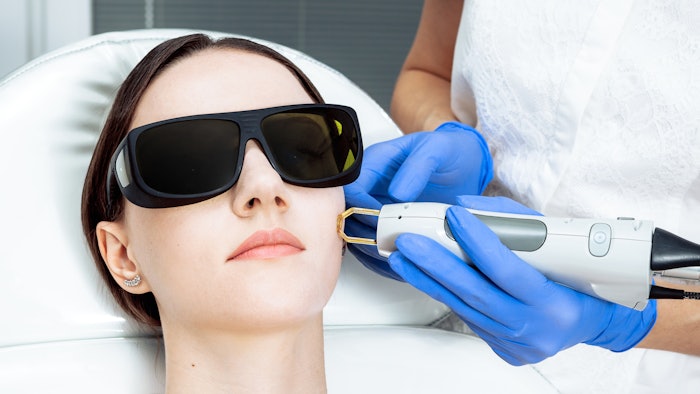 A study published in Lasers in Surgery and Medicine (Aug. 10, 2020) evaluated the efficacy of an enhanced pulsed dye laser (PDL) for the treatment of facial dyschromia. Edward Victor Ross, MD, led the study that evaluated 13 patients that had either facial telangiectasia, rosacea, pigment or a combination of these.
Study Methods
Of the 13 patients enrolled in the study nine of them were female and four were male, with a mean age of 61. During the initial evaluation, test spots were performed to determine the subject's response to the selected treatment. The enhanced 595 nm PDL had a spot size range of 5 to 12 mm with fluences ranging from 8 to 18 J/cm2 . The device included enhancements like cryogen spray cooling, increased maximum pulse energy, increased repetition rate, option for addition of radiofrequency (RF), a 15 mm spot size and longer dye life.
Small fluences were applied for general rejuvenation while smaller spots were used to treat lesions that persisted after the overall facial treatment with the larger spot. The minimum fluence that achieved vessel closure/building or slight immediate pigment darkening was applied based on the test spots that had been performed on the patients. Up to three treatments were performed approximately one month apart with a follow up visit one and three months after the final treatment.
Study Results
A panel of blind observers conducted an evaluation that determined a mean clearance of at least 50% in all lesions, while 77% of lesions had 50% to 75% clearance, and 23% of lesions had 76% to 100% clearance. The pain meter was recorded at approximately 4 out of 10, and the subjective lesion improvement and satisfaction rates were recorded at 3 out of 4 and 3.6 out of 4, respectively.
The authors concluded that, overall, the enhanced PDL device is effective in one-pass treatments for facial rejuvenation with less operative time than previous commercially available systems.