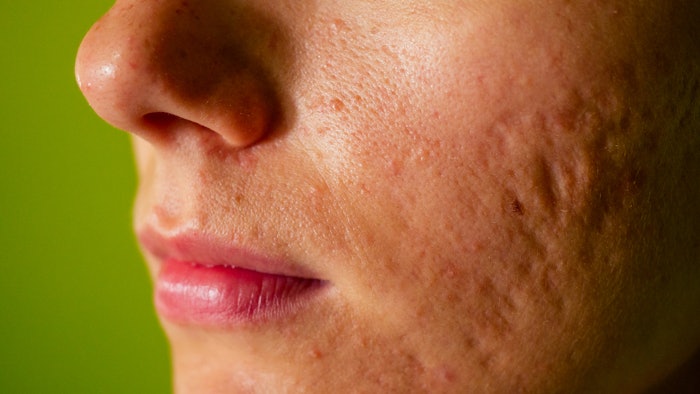 Both fractional micro-plasma radiofrequency (RF) and RF-based microneedling devices improve the appearance of acne scars, but there are some key differences in terms of rates of adverse events and efficacy by type of scars. For their randomized, split-face trial, published in Lasers in Surgery and Medicine (December 16, 2020), Ting Lan, et al, treated 60 patients with facial atrophic acne scars. The subjects underwent three sessions (spaced two months apart) using fractional micro‐plasma RF on one side of the face and fractional microneedle RF on the other.
Three independent dermatologists evaluated digital images of the patients pre- and post-treatment and graded the improvement in acne scars using the ECCA (Echelle d'Evaluation Clinique des Cicatrices d'Acné) grading scale. Patients were asked to provide a self‐evaluation of satisfaction based on efficacy and safety of the treatment. The researchers recorded adverse effects after each treatment.
The independent evaluators saw significant improvement in the appearance of acne scars, and the mean ECCA scores improved significantly after treatment on both sides of the face. The mean decrease in ECCA scores from the baseline was significantly more pronounced in fractional micro‐plasma RF-treated areas as compared with fractional microneedle RF (41.33 ± 20.19 vs 32.17 ± 17.35). Rolling scars tended to respond better to fractional micro‐plasma RF treatment compared with fractional microneedle RF
All patients experienced pain, erythema and swelling after both treatments. The pain was more intense during micro‐plasma RF treatment. The duration of pain and erythema were longer on the micro-plasma treated side than with fractional microneedle RF. One patient experienced post-inflammatory hyperpigmentation (PIH) on the fractional micro‐plasma RF side; no PIH was observed on the fractional microneedle RF side. No infections or worsening of scarring was observed with either treatment.
The authors concluded, "Both fractional micro‐plasma RF and fractional microneedle RF are effective and safe methods for improving atrophic acne scars. Fractional micro‐plasma RF is significantly more effective for atrophic acne scars, especially for rolling scars. However, fractional microneedle RF has fewer side effects plus shorter downtime, and patients are more comfortable after the treatment."