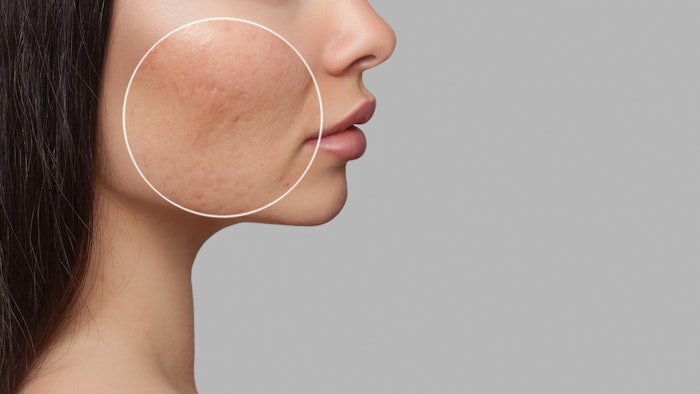 The results of a split-face study by Benev Company showed superior outcomes for acne scars following combination treatment with a fractional CO2 laser and a topical containing human adipose tissue stem cell-derived exosomes. The 12-week prospective, double-blind, randomized, split-face investigative report was published on Oct. 19, 2020 in Acta Dermato-Venereologica. 
The study included 25 patients (18 men and 7 women) between the ages of 19 and 54 with atrophic acne scars. Twelve of the patients had Fitzpatrick skin type 3 and 13 had Fitzpatrick skin type 4. Each patient received three consecutive treatment sessions of fractional CO2 laser to the entire face, with a follow-up evaluation and post-laser split face regimen, where one side of each patient's face was treated with an adipose tissue stem cell-derived exosome gel and the other side of the face was treated with a control gel. (The exosomes used in the study were acquired from human ASC-CM by ExoSCRT technology developed by ExoCoBio.)
Findings showed that treatment sides of the face achieved a significantly greater improvement than the control sides at the final follow-up visit (32.5% versus 19.9%). In addition, treatment-related erythema was milder and post-treatment downtime was shorter on treatment side. 
"With a huge percentage of the world population struggling with this condition, the need for widening of therapeutic options was astoundingly clear," says Diane Duncan, MD, FACS. "While ablative fractional carbon dioxide laser resurfacing has demonstrated clinical efficacy in acne scar treatments, patients have sustained side effects during post-procedural wound healing and had demanded improvement. The adjuvant application of adipose-derived stem cell conditioned medium with synergistic effects in augmenting treatment responses and reducing adverse effects through its potential to accelerate tissue rejuvenation is a victory for those suffering."