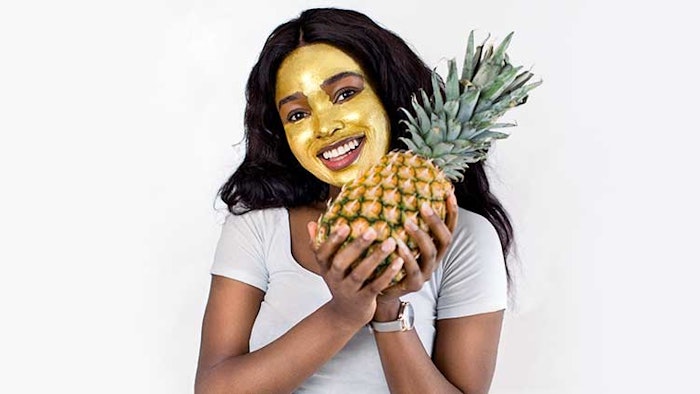 Transparency Market Research reports that plant-based, protein-digesting enzymes such as pineapple-derived bromelain have value for the dietary supplements and cosmetic industries. Skin care product manufacturers also have shown interest in the bromelain market to expand their plant-based product portfolios.
Related: Consumers Seek Out Pineapples for Their Skin Care
According to the firm, a growing number of scientific studies have reported the numerous therapeutic benefits of bromelain, notably its anti-edematous, anti-inflammatory, antithrombotic and proteolytic activities. This has opened up the bromelain market to opportunities among companies in the pharmaceutical, cosmetic and dietary supplements industries. With that, bromelain-based products are also in demand on the back of regulatory approvals. Research using bromelain as a biocatalyst is another key avenue.
Taken together, the various market avenues are projected to expand the bromelain market to a predicted value of US $1.1 billion by 2030. During the forecast period of 2020-2030, revenue is expected to increase at CAGR of 4.5%.
Previously: Enzymology; Accelerating Success in the Skin Care Market
Health care: The health care industry is especially interested in bromelain for its anti-inflammatory properties, Transparency Market Research reports. A number of formulations using this enzyme have been used to treat symptoms of osteoarthritis and cardiovascular diseases, such as coronary heart disease, cerebrovascular disease, rheumatic heart disease and hypertension. Ongoing studies also focus also on the effects of bromelain on diarrhea and blood coagulation. Backed by results of in vivo and in vitro studies, the bromelain market is expected to garner new R&D investments.
Personal care: Players in the bromelain market are seeing vast revenue from the personal care industry as well, the firm reports. Companies have especially been leveraging the antimicrobial benefits of bromelain in cosmetics and skin care products. Additionally, growing consumer awareness about the benefits of organic ingredients in products helps to open up new avenues.
Catalyst chemistry: Finally, a rise in interest in catalyst chemistries for the production of fine chemicals and pharmaceuticals has also spurred the utilization of bromelain. Here, the firm notes the bromelain market is witnessing a value-grab opportunity from the widespread use of biocatalysts in various chemical processes.
To read the report in full, see Transparency Market Research.