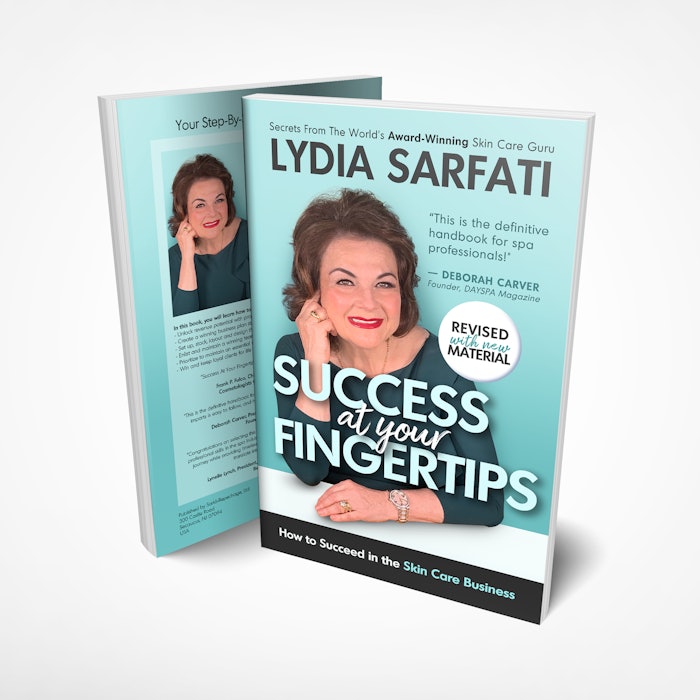 Lydia Sarfati, founder of Repêchage Skin Care and president of CIDESCO USA, is donating a portion of the proceeds from all digital and print sales of her book, Success At Your Fingertips: How to Succeed In the Skin Care Business, to benefit Beauty Changes Lives.
Beauty Changes Lives is a non-profit 501c3 that provides scholarships, mentorships and inspiration to support and empower future beauty professionals, including spa and salon professionals.
"As President of CIDESCO Section USA, one of my goals is to raise the bar on education in esthetics and beauty therapy," said Sarfati. "I know firsthand how education can provide the power and initiative to create a successful career and life. It is my mission to provide this opportunity to all those who have the drive to succeed, no matter their financial situation."
In the newly revised edition of her book, Sarfati shares her step-by-step method to creating and maintaining a successful business in an ever-changing world. Five dollars per sale will benefit the Beauty Changes Lives "Make Your Mark" national recruiting campaign.
The campaign targets Gen Z and celebrates the pathways and possibilities open to licensed beauty professionals, bringing together beauty professionals from all disciplines in the industry to share their stories and inspire the next generation of spa and salon pros.
"Lydia's extraordinary achievements as an entrepreneur, skincare authority, published author and compassionate humanitarian is an inspiring example of the limitless opportunities available in the professional spa sector. Beauty Changes Lives is grateful and humbled by her generosity and the beautiful investment she is making in the future of our industry," said Lynelle Lynch, president Beauty Changes Lives and president and owner of Bellus Academy.