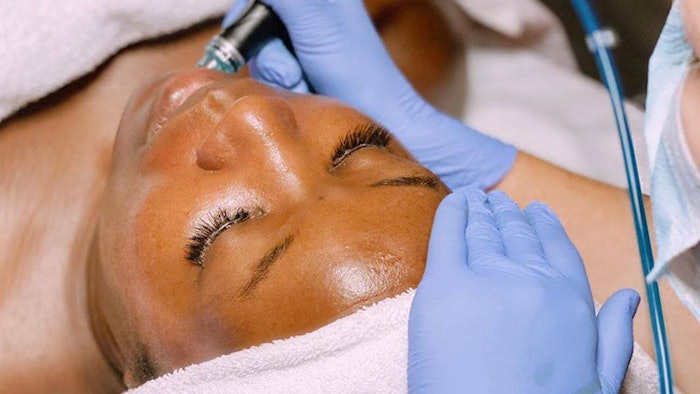 The HydraFacial Company has announced its HydraFacial Connect certification program is now expanding and available to esthetic professionals nationwide.
The three-level industry certification program was created to advance esthetic professionals' skills as well as bridge skin health expertise with influencing, selling and marketing skills. Throughout the certification, participants will submit skills assessments for review by HydraFacial master trainers for live personalized feedback.
The HydraFacial Company has eight experience centers in Long Beach, Orlando, Chicago, Dallas, Tokyo, Shanghai, Madrid and London (opening soon). In addition to the Connect certification, HydraFacial offers a training curriculum for all providers and HydraFacialists, with both in-center and virtual training events.
The program recently graduated its first class of Connect Masters, the highest distinction in the certification program.
Kim Jones-Bell, the first Connect Master graduate said, "My journey this past year through The HydraFacial Connect Certification has been absolutely incredible. I now feel more confident in promoting and upselling all my services. I always knew HydraFacial was an exceptional brand but working hands on with the team during this program opened my eyes on how much more I can grow my business."
Joanna Ebbers, vice president, training and education said, "HydraFacial Connect Certification is designed to engage and empower the licensed skin and beauty health expert who strives to be at the top of their craft. Participants not only expand their aesthetic industry knowledge but are challenged to step up and hone their hospitality skills while gaining expanded business and leadership competency. Connect participants build a network of peers, business leaders, and beauty health professionals from around the globe making this an enriching and transformative experience."