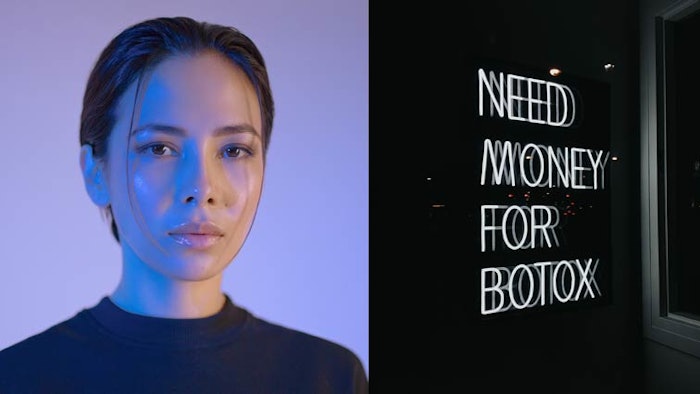 While 2020 was all about DIY face masks, hair dye and eyeliner, 2021's data trends point to a major resurgence in professional beauty services and "tweakments," per new Spate data. The company notes that shoppers "are paying less attention to beauty products" and are instead turning to services that were closed or perhaps perceived as too risky at the height of the pandemic. The trend was further boosted by all the time locked down consumers spent researching popular treatments.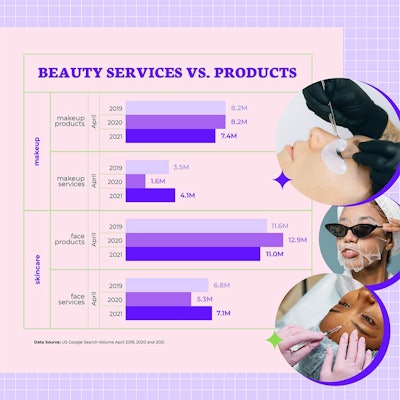 To get a handle on the latest trends, Spate analyzed more than 20 billion U.S. online search signals between April 2019 and April 2021. What the company discovered was eye-opening.
"Over the past year, Americans spent much of their time at home researching beauty products and ingredients," says Spate co-founder Yarden Horwitz. "As lockdown restrictions begin to lift, consumer interest is shifting away from products and consumers are now turning back to professional services—but in a much more sophisticated way."
She continues, "They're adopting a wide variety of services and treatments to meet their everyday beauty needs. Treatments such as microneedling, brow laminations, and botox lip flips have already become mainstream, and will have an impact on the type of beauty products that consumers use (or don't use)."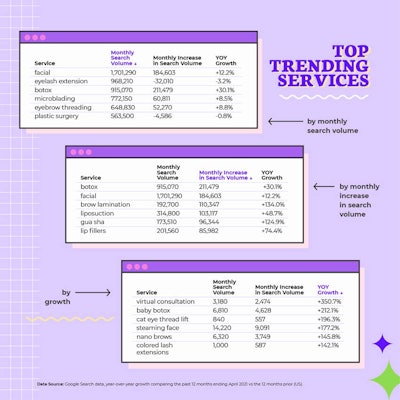 Key findings of the report (see slideshow for data charts):
Search volume for makeup and skin care products has come down
Simultaneously, search volume for skin care and makeup services has grown
Regarding professional services, Spate found:
Facials have had the highest monthly search volume: 1.7 million
Botox has had the highest monthly search volume increase, adding 211.5K searches
Virtual consultations have had the strongest year-over-year growth, rising 350.7%
Brow lamination has posted a 110.3K increase in monthly search volume, rising 134.0% year-over-year
Lip fillers have posted an 86.0K monthly increase in searches, representing 74.4% year-over-year growth
Baby/micro- Botox has posted a 4.6K gain in monthly searches, representing 212.1% year-over-year growth
Microneedling has posted an 83.3K increase in monthly search volume, representing 33.2% year-over-year growth
Botox lip flip (a temporary lip filler alternative) searches have posted a 77.6K increase in monthly search volume, representing 134.3% year-over-year growth
Eyebrow lift searches have posted a 39.4K increase in monthly search volume, representing 66.1% year-over-year growth
Thread lifts have posted a 37.0K increase in monthly search volume, representing 84.9% year-over-year growth; Spate recommends that brands consider highlighting similar lifting benefits in their products and marketing language