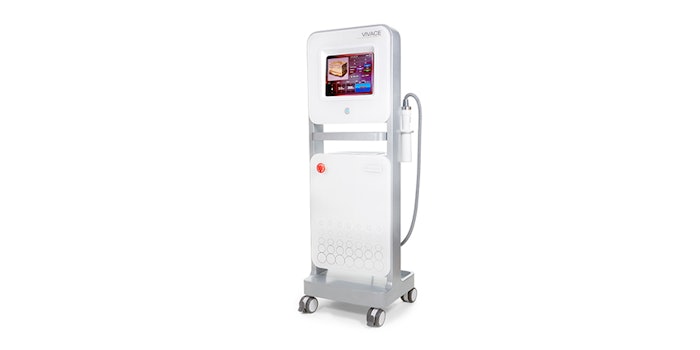 Courtesy of Vivace Experience
Aesthetics Biomedical (ABM) has announced a long-term partnership with U.S. Dermatology Partners, a network of physician-led dermatology practices with more than 90 locations throughout Arizona, Colorado, Kansas, Maryland, Missouri, Oklahoma, Texas and Virginia.
Earlier this year U.S. Dermatology Partners installed Vivace into four of its practices as part of a pilot program. They are currently expanding locations thanks to strong ROI and patient satisfaction.
Vivace is a minimally invasive, FDA-cleared, radiofrequency microneedling treatment that stimulates the natural production of collagen and is known to alleviate facial wrinkles, fine lines and tightening the face and neck.
"U.S. Dermatology Partners is thrilled to be collaborating with Aesthetics Biomedical to bring the Vivace Experience to our patients and our growing network to Aesthetics Biomedical. We expect the innovative technology and outstanding results that Vivace offers will be well-received by both our physicians and patients and will provide another opportunity to deliver superior care to the communities we serve," said U.S. Dermatology Partners CEO Paul Singh.
"Striving to innovate, generate solid clinical and laboratory research, and to enrich the physician as well as the patient experience are principles that Aesthetics Biomedical was founded on. It is these foundational principles that have led to our synergy with U.S. Dermatology Partners," said MaryAnn Guerra, CEO of Aesthetic Biomedical.