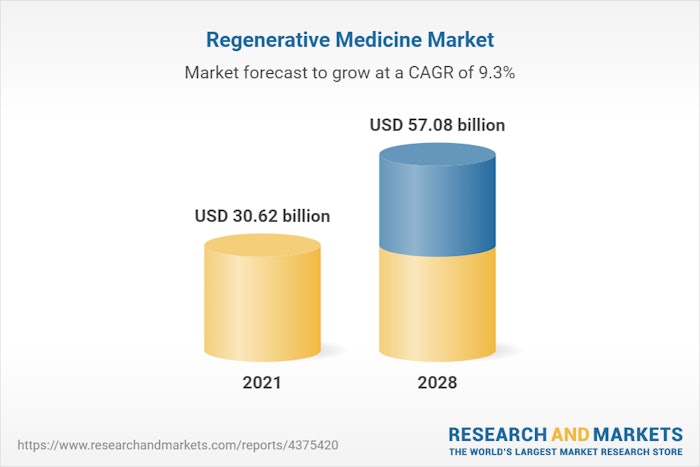 Courtesy of Research and Markets
According to a Research and Markets report, the global regenerative medicine market size is expected to reach $57.08 billion by 2027.
Recent advancements in biological therapies caused a shift toward personalized medicinal strategies rather than the conventional treatment approach.
This switch caused a rise in R&D activities in the regenerative medicine arena for the development of novel regenerative therapies.
Advancements in cell biology, genomics research and gene-editing technology are also expected to help grow the industry. 
Regenerative Medicine Market Report Highlights:
The number of companies engaged in the development of advanced therapies is continuously increasing over the past few years.
The therapeutics segment dominated the market in 2020 due to the high usage of primary cell-based therapies along with advances in stem cell and progenitor cell therapies. The implementation of these therapies in dermatological, musculoskeletal and dental application results in the highest share of this segment.
Stem cell and progenitor cell-based therapies are anticipated to witness rapid growth due to high investments in this research space and an increasing number of stem cell banks.
With the rise in R&D and clinical trials of regenerative medicines, key players are offering several consulting services leading to lucrative growth of the services segment.
The oncology segment is estimated to account for the largest revenue share by 2027 owing to the high prevalence of cancer indications, which drives the demand for better solutions. The presence of a strong pipeline of regenerative medicines for cancer treatment also supplements the segment growth.
North America dominated the market in 2020 and is projected to continue its dominance over the forecast period. A significant number of universities and research organizations investigating various stem cell-based approaches for regenerative medicine in the U.S. is propeling the region's growth in this sector.
Asia Pacific is projected to witness the fastest CAGR over the forecast period due to the emergence of key players and rapid adoption of cell-based approaches in the health care.