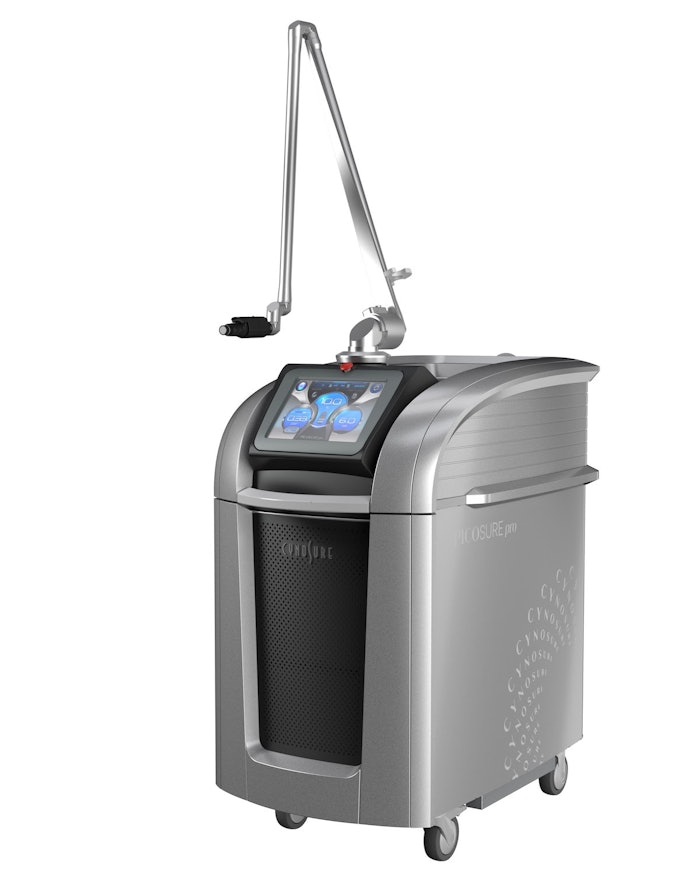 Cynosure announced the launch of the PicoSure Pro device. The first and only FDA-cleared 755nm picosecond laser on the market, the device delivers energy in a trillionth of a second, utilizing pressure instead of heat to provide safe and effective treatments for pigmentation and skin revitalization. 
"From a 50% increase in energy to new handpieces and an adjustable fluence, the performance enhancements made to the PicoSure Pro device provide practitioners with more versatility than ever before, allowing them to efficiently treat more patients per day and provide better outcomes in less time," said Todd Tillemans, Chief Executive Officer of Cynosure.
Related: Cynosure Releases Tempsure eyeEnvi Handpiece
The PicoSure Pro device is equipped with two lenses that work to address a variety of skin concerns. The device's advanced Platinum Focus lens array is used to increase collagen and elastin to help treat wrinkles, acne scars and pores. 
With the addition of the flat lens, the PicoSure Pro device is also the first and only picosecond laser FDA-cleared for the treatment of pigment in melasma and other hyperpigmentation issues such as nevus of Ota and Hori's nevus. Additional enhancements include an intuitive graphic user interface and new 5MM handpiece that treats discrete lesions, lighter Fitzpatrick skin types and smaller treatment areas.