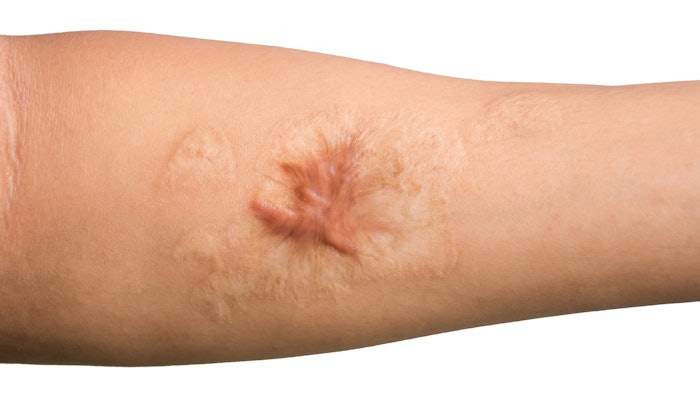 Dehydrated human amnion/chorion membrane (dHACM, MiMedx Group) modulates pathological scar formation, offering a potential treatment for patients at risk of keloids and other complications of excessive fibrosis.
For their peer-reviewed study, published in the Journal of Investigative Dermatology (June 2021), authors Sarah Moreno, Michelle Massee and Thomas J. Koob, PhD, explored the potential mechanism of action by which dHACM affects fibrotic pathways.
"While many distinct factors can trigger progressive fibrotic disease, a feature common to all fibrotic diseases is activation of extracellular matrix (ECM)-producing myofibroblasts, which are key mediators of fibrotic tissue remodeling," said Sarah E. Moreno, lead author and manager of research at MiMedx. "We know that the ongoing presence of pro-fibrotic stimuli can impede the normal healing process, resulting in excessive fibrosis. Our goal was to examine whether, and how, MIMEDX amniotic tissue might disrupt this process."  
The researchers used an in vitro model for fibrosis, developed through the stimulation of human dermal fibroblasts with transforming growth factor beta (TGF-β1), to induce differentiation into myofibroblasts.
Introduction of dHACM into this model resulted in disruption of the TGF-β1 signaling pathway, reducing the elevated expression of fibrotic factors and ECM components, effectively regulating myofibroblast activity.
The researchers found that the functional outcome of these effects was also seen in an ex vivo model for cellular contraction, where dHACM treatment reduced the contractile capacity of stimulated fibroblasts imbedded within a collagen matrix to near basal levels. 
"This research provides data that clarify the molecular pathways targeted by dHACM to regulate aberrant fibroblast activity in vitro. The benefit of this finding could prove to be a significant advancement for the treatment of injuries where pathological scar formation is triggered," said Robert B. Stein, MD, PhD, executive vice president, Research and Development at MiMedx. "I commend our team for this contribution to expanding our understanding of placental tissue and their unwavering commitment to evaluating the utility of MIMEDX Purion processed human placental tissue as meaningful medicines promoting more effective healing."