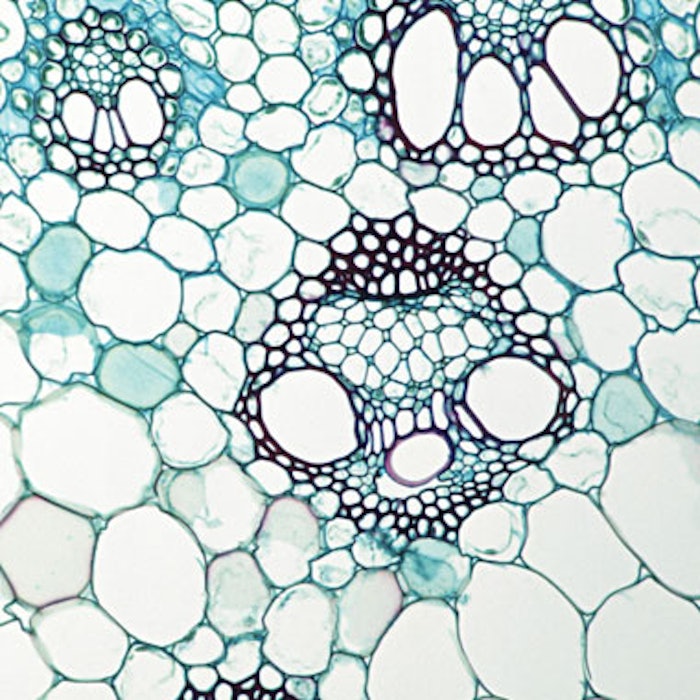 Google the words "human stem cells skin care" and you will see more than 3 million search results. But when it comes to topical skincare products, the discussion of stem cells is really about growth factors, cytokines and chemokines. Some are grown in the laboratory and others are found in stem-cell-conditioned media.
Cytokines and chemokines are signaling proteins, released by cells, that serve as messengers and affect the behavior of other cells. Cytokines, in particular, often regulate inflammatory responses. Growth factors stimulate cellular proliferation.
"Incorporating live cells into topical skincare products is not realistic," says Sarah Bacus, PhD, a well-known scientist in the fields of cell biology and oncology, and co-founder and chief scientific officer at CeLuvia, a growth factor-based skincare line. "Stem cells and cells in general are notoriously difficult to keep alive in a laboratory, let alone in a skincare formulation. There is also no practical reason to include stem cells in a cream or apply them topically. There would be no benefit from this approach."
Instead, formulators are working with byproducts of cultured cells—the above-mentioned cytokines, chemokines and growth factors—to spur skin cells into action, says Burt Ensley, PhD, CEO and chairman of Protein Genomics, a wound healing and tissue regeneration company, and DermaLastyl, an antiaging skincare company. "Skincare topicals are currently using the byproducts of culturing cells from various sources into a conditioned medium. Depending on the type of cells used and the processing methods, the output can be growth factors, matrix proteins and cytokines," he says. "Human stem cell byproducts (from skin or adipose tissue) appear to be the best candidates for use in skincare products due to their ability to produce (in the right conditions) the same types of cellular components that your body naturally uses to maintain a youthful appearance."
The type of stem cells used to create these byproducts, and how they are processed and formulated are the main points of differentiation in the over-the-counter products currently available.
Ronald Moy, MD, a Beverly Hills dermatologist and founder of the DNA EGF Renewal Collection, uses barley-bioengineered human-like epidermal growth factor (EGF) along with a trio of DNA repair enzymes. "The only products that make sense are those using human bioengineered growth factors that decrease with aging and have been studied in wound healing to be effective," he says. "The soup of growth factors taken from neonatal foreskin or skin stem cells does not make scientific sense since they are not active by the time they are processed into a cream."
Growth factors rarely stand alone in skincare formulations. Instead, products feature a blend of growth factors, cytokines, antioxidants and other antiaging ingredients. "Cellular rejuvenation is a complex process in which many signals working symbiotically are required. No one single ingredient/molecule is responsible for this process," says Ensley, who also works with the U Autologous line, sold by Personal Cell Sciences, which uses stem cells extracted from the patient's own adipose tissue to create individualized skin preparations consisting of Autokine (autologous stem-cell-conditioned media) with added peptides and antioxidants. "There are, however, notable cytokines involved in the process, including transforming growth factor beta-1, epidermal growth factor and basic fibroblast growth factor. Stem-cell-conditioned mediums are able to capture a varied set of these cytokines and deliver the complete set of instructions necessary for rejuvenation."
Image copyright Getty Images.
[pagebreak]
Lifeline Skin Care uses conditioned media from human non-embryonic stem cells, so-called pluripotent stem cells. The cells are harvested from unfertilized human eggs (not embryos), such as those used for in vitro fertilization.
"When considering the best stem cells to use as a source of an extract, consider the goal," says Simon Craw, PhD, executive vice president of business development at International Stem Cell Corp. (a parent company of Lifeline). "Proteins and peptides taken directly from human non-embryonic stem cells are the most potent on the market. Lifeline Skin Care is one of the few skincare product lines created by a stem cell biotechnology company. International Stem Cell Corp. is currently developing a treatment and potential cure for Parkinson's disease using these same stem cells as a starting point."
AnteAge MD by Cellese employs conditioned media derived from bone marrow mesenchymal stem cells (BM-MSC) as a primary component in its product lines. "Recent research reveals the role bone marrow stem cells play in tissue repair, particularly the skin," says George Taylor, MD, a retired physician, who co-founded Cellese with John Sanderson, MD, a stem cell researcher. Both have worked on diabetes-related projects dealing with wound healing. "BM-MSCs patrol the body via the bloodstream and pinpoint injured tissue. They coordinate cellular proliferation, epithelialization and remodeling. The number of bone marrow stem cells plummets with age. On the basis of healing physiology, BM-MSCs seem to be the best cells to culture to obtain biosignals for use in products to be applied to the skin." AnteAge MD also includes recombinant TGF-ß3, IGF-1, peptides, niacinamide and antioxidants.
Suneva Medical's Regenica line includes human cell-conditioned media produced from neonatal cells grown under conditions of very low oxygen and suspension, a simulation of the embryonic environment. Neonatal cells have been found to produce proteins and growth factors in types and quantities similar to those of fetal cells. The human cell-conditioned media (hCCM) is extracted and formulated into a gel.
Bacus says knowing which growth factors you are including in the end product is as important as the type of cell used. "Many products include uncertain combinations of growth factors. For the CeLuvia line we focus on combining growth factors in a very rational way based on years of experimentation in the lab using skin cells," she says. "Unless the scientific principles of growth factors and how to use them is understood, there will be no benefit to incorporating them in skincare products." CeLuvia Night Complex, for example, includes fibroblast growth factor phytosphingosine (PPAR gamma activator-PGA), an anti-inflammatory, and antioxidants.
Dr. Taylor agrees that the mixture of growth factors and cytokines is crucial. "Inflammation is considered a major contributing factor to the development of many degenerative conditions. Chronic inflammation is pro-aging for the whole body, and especially skin," he says. "All growth factors are inherently either pro-inflammatory, anti-inflammatory or neutral. The collective pattern from different types of cells will also be pro-inflammatory, anti-inflammatory or neutral. BM-MSC conditioned media includes an anti-inflammatory pattern of growth factors and cytokines."
Ensuring Delivery
No matter how good the stem-cell media, questions still remain about whether any of them are stable enough to survive in a skincare formulation and, if so, whether they can penetrate the skin barrier and produce any kind of significant effect on skin cells.
Image copyright Getty Images.
[pagebreak]
"These proteins can be very effective once they are delivered to the skin where they can initiate collagen and elastin production," says Craw. "However, protein molecules are large and very fragile, which makes them difficult to formulate."
Until fairly recently, it was not possible to include human proteins in skincare formulations. Microencapsulation, a type of nanotechnology commonly used in pharmaceuticals, personal care products and food, now offers formulators the ability to protect fragile ingredients and slip even large molecules like proteins through the skin barrier.
"Lifeline Skin Care takes care to ensure proper delivery by using nanotechnology to encapsulate the proteins, protecting them from degradation and aiding their absorbance. As a result, more of these important proteins remain potent," says Craw.
Collecting Evidence
Most of the basic science behind stem-cell-derived products comes from clinical investigations into wound healing. "Cell-based therapies have been used routinely in medical care for burn and wound management for more than 30 years," explains Ensley. "It is believed through current research that these derivatives contain properties that are well suited to promote dermal wound healing and that these results can be used effectively in a topical skincare formulation to assist in reversing the appearance of aging."
The marketing materials for many stem-cell-derived products use phrases like "rooted in science" or "based on award-winning science," but what do we really know about any of these skincare preparations utilizing stem-cell-conditioned media? Most have at least small in-house studies to share, but physicians looking for large, peer-reviewed clinical trials are likely to be disappointed.
The May 2012 issue of Journal of Drugs in Dermatology includes a study done by Jonathan M. Schouest, BS, Teresa Luu, MD, and Dr. Moy, that provides results of a three-month trial of Dr. Moy's synthetic human-like DNA-EGF serum. The open-label, single-center study involved 29 females ages 39 to 75 with mild to severe signs of photodamage and aging on facial skin. The participants used the serum twice daily along with a simple cleanser and basic sunscreen in a prescribed regimen. Clinical evaluations, clinical photography and self-assessments were done at baseline and at the end of each month during the study period. The authors concluded that "regular applications of the DNA-EGF serum regimen effectively reduced facial rhytids and improved several parameters of skin texture to a statistically significant degree" for the 21 subjects who completed the study. Subject assessments showed that 80% saw improvement in skin smoothness and 60% saw improvement in both fine lines and brown spots.
Aesthetic Plastic Surgery (April 2012) includes a study evaluating Regenica gel for its efficacy in healing skin after laser resurfacing. The split-face clinical evaluation included 42 subjects undergoing combination ablative and nonablative laser procedures and three concentrations of Regenica's hCCM gel. Blinded physician evaluations showed a dose-response trend, especially in the assessment of crusting. A significant difference in readings for transepidermal water loss indicated that the hCCM-treated side of the face returned to normal skin barrier function more rapidly, and histopathology showed reduced inflammation in biopsies from treated skin compared to untreated skin.
Image copyright Getty Images.
[pagebreak]
Sabrina Fabi, MD, and Hema Sundaram, MD, two well-known dermatologists, assessed the potential of topical and injectable growth factors and cytokines for facial rejuvenation in an April 2014 article for Facial Plastic Surgery. And three other dermatologists, Flor Mayoral, MD, Julie Kenner, MD, and Zoe Draelos, MD, put peptides and growth factors at the top of their "skin health and beauty pyramid," a clinically based guide designed to help physicians select and recommend topical skincare products (J Drugs Dermatol, April 2014).
"Lifeline Skin Care has had its products tested in several independent clinical trials that have shown amazing results, including improvement in wrinkle depth and skin firmness from 55% to 80%," says Craw. "Summaries of the studies are available by request."
CeLuvia also offers in-house studies. "Our products go through clinical testing under the supervision of expert dermatologists to examine efficacy and safety. This is an extremely important part of our process," says Bacus.
"U Autologous skincare's eye cream by Personal Cell Sciences was tested in an independent, eight-week clinical study by Dr. Fredric Stern of Bellevue, Washington. The study showed promising results using the individual's own stem-cell-based conditioned medium," says Ensley.
"When evaluating clinical studies, the user should be made aware of who performed them and how," he says. "Ideal studies are performed by disinterested outside experts and involve control groups and blinded evaluators, but all types of studies can help users understand how the product may work best for their purposes."
Linda W. Lewis is a contributing editor of MedEsthetics.
Image copyright Getty Images.