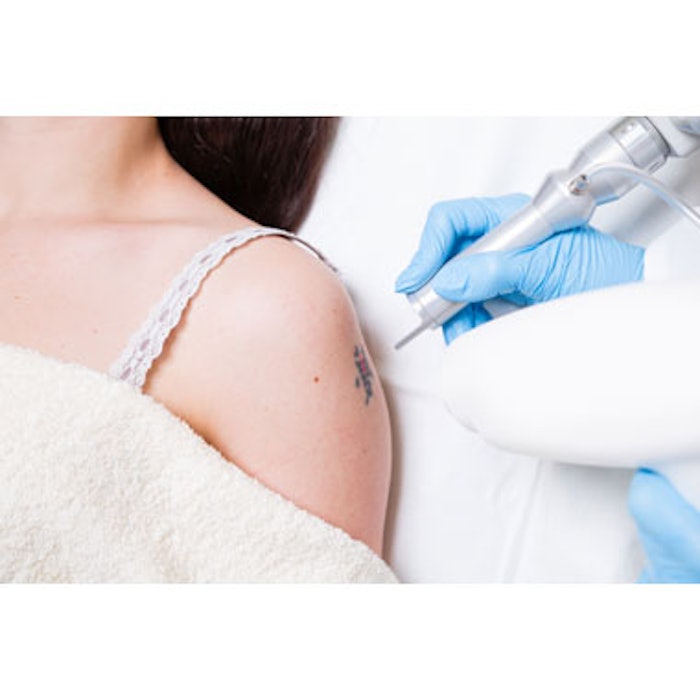 In a prospective study published in Lasers in Surgery and Medicine (September 2015), researchers used a prototype, picosecond-domain, frequency-doubled Nd:YAG laser system (PicoWay, Syneron-Candela) to treat 31 tattoos in 21 subjects.
Treatment parameters for each subject were based on their Fitzpatrick skin type; the color and intensity of tattoo ink; the clinical whitening response; and the photoacoustic effect of laser pulses upon various portions of the tattoo. Black, blue, green and purple inks were treated with the 1064nm wavelength, while red and yellow inks were treated with the 532nm wavelength. Treatments were administered with beam diameters ranging from 3mm to 5 mm, and fluences ranged from 1.4J/cm2 to 5.3J/cm2 (1064nm) and from 0.4J/cm2 to 2.1J/cm2 (532nm).
The average clearance overall as rated by blinded observers evaluating randomized digital photographs was 79 ± 0.9% after an average of 6.5 treatments. Of the 31 tattoos completing treatment, six had evidence of mild hyper- or hypopigmentation.
Photo copyright Getty Images.