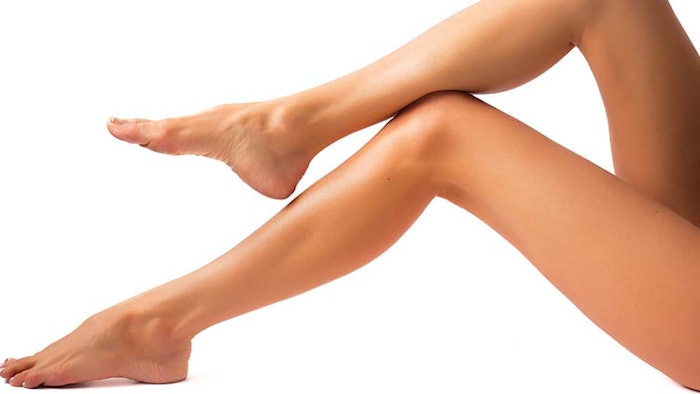 Laser hair removal is one of core treatments that has built the medical aesthetics industry. The ability to provide permanent hair reduction on virtually every part of the body draws hundreds of thousands of patients to aesthetic practices and medical spas every year. And each year, device manufacturers work to create more effective hair reduction platforms that are easier and safer to use.
Some of the most recent innovations include larger spot sizes, tracking technologies to reduce untreated areas and melanin readers that adjust treatment parameters for less experienced users. "When you look at some of the newer lasers, including the Splendor X from Lumenis, the Elite iQ from Cynosure, Gentlemax Pro from Candela, the Lutronic Clarity II and the Cutera Excel HR, the spot sizes keep getting bigger and bigger," says E. Victor Ross, MD, director of the Laser and Cosmetic Dermatology Center at Scripps Clinic in San Diego, California.
Each of these devices features dual-wavelength Alexandrite/Nd:YAG lasers with spot sizes up to 28 mm. Their higher power combined with larger spot sizes allows for significantly faster treatments.
"A big spot 10 years ago was 18 mm. Now it's not unusual to see 24 mm spots, and that makes for a lot more speed," says Dr. Ross. "You're getting about 80% more coverage per pulse, and the repetition rates have gotten faster too. You can go up to 2 Hz with some of these larger spots, which you couldn't do before."
The Clarity II, introduced last year, also offers an integrated tracking tool that allows you to see treated and untreated areas as you work. "One issue has always been skipped areas, especially in large areas such as the back or chest," says Dr. Ross. "You think you've treated the entire area, but when the patient comes back you've got this moth-eaten look because you didn't overlap quite enough."
Choosing Your Wavelength
Generally speaking, "the higher the fluence and shorter the laser wavelength, the better the result," says Mitchel P. Goldman, MD, volunteer clinical professor of dermatology at the University of California, San Diego and medical director of West Dermatology Cosmetic Laser Dermatology in San Diego. He notes that 810 nm diode and 755 nm Alexandrite lasers are the most effective options for laser hair removal. But there are some exceptions.
Patients with skin types IV-VI are poor candidates for Alexandrite and 810 nm diode lasers, as these wavelengths target melanin. "It is safer to use a 1,064 nm Nd:YAG laser because it is somewhat colorblind, and it is a longer wavelength. So, it's able to bypass epidermal melanin and target just the pigment in the hair follicle," says Arisa Ortiz, MD, director of laser and cosmetics at the University of California, San Diego. "You also want to adjust the cooling based on skin type, using more robust cooling when working with patients with darker skin types."
Intense Pulsed Light (IPL) is effective and widely used for permanent hair reduction, but it is typically less effective than laser. "Some practices may have an IPL, because they are very versatile devices. You can change the filters and treat sun spots or blood vessels, and they do work for hair removal. But if you go head-to-head, laser always does better," says Dr. Ortiz.
When looking at diode versus Alexandrite lasers, both are equally effective. "But it does depend which diode or which Alexandrite. Some companies manufacture better lasers than others," says Dr. Ortiz. "You also need to be well-trained. You can have a good laser but if the laser operator does not know how to optimize the settings, then you may not get a good treatment."
Optimizing Your Settings
As mentioned above, shorter wavelengths and higher fluences are most effective, particularly if you are treating a patient with fair skin and darker hair. But, this varies based on hair type as well.
"You tend to use 1,064 nm for darker skin and the Alexandrite 755 nm or 810 nm diode for lighter skin, and then as the hair gets thicker, we use longer pulses," says Dr. Ross. "These are the scalable parameters that are based on the hair type, hair color and skin color with skin color being the most important thing to consider."
When treating thicker hair, he lengthens the pulse duration. "If we have someone who has thick black hair on their beard area, say a gentleman with pseudofolliculitis barbae, we may not use the three-millisecond pulse duration that's available on some of these devices. We would lengthen it, so we don't get that violent vaporization of the hair," says Dr. Ross.
When treating areas with thick dark hair, the shorter pulse width not only causes more pain, it increases the risk of burning because there is more chromophore for the laser to target. "You want to lower your fluence in the initial treatments, and then with subsequent treatments, you can increase the fluence, as needed, because there is less hair there," says Dr. Ortiz.
Continue Reading on about patient prep, reducing the risk of complications, working on the face and more in our Digital Magazine...