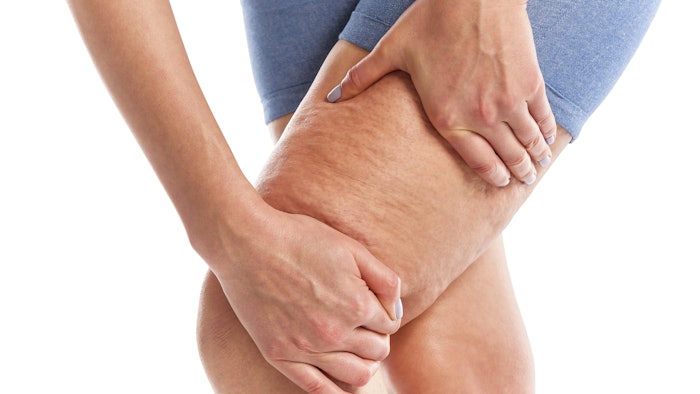 In February, the U.S. Food and Drug Administration (FDA) cleared Soliton's Rapid Acoustic Pulse (RAP)Technology for short-term improvement in the appearance of cellulite. The company's RAP device uses sound waves to nonthermally and noninvasively break the fibrous bands beneath the skin that cause the rippling effect of cellulite.
"RAP technology delivers very high-intensity sound waves at a high repetition rate. When they traverse the skin, they cleave the fibrous bands that lead to the appearance of cellulite," says Elizabeth Tanzi, MD, medical director of Capital Laser and Skin Care in Chevy Chase, Maryland, and clinical investigator of the
RAP device.
The acoustic shockwaves are delivered at a rate of up to 100 pulses per second, which allows the technology to perform what the company refers to as "acoustical subcision" without damaging surrounding tissues. "The sound wave technology is not heat related and it does not cause cavitation," explains Dr. Tanzi. "As the sound waves are going through the skin, they cause a mechanical disruption of those targeted structures, while leaving the remaining tissue intact."
In the clinical trials submitted to the FDA as part of the 510(k) application, subjects underwent a single treatment.
Inga Hansen is the managing editor of MedEsthetics.
Continue Reading about Soliton's RAP technology in our Digital Magazine...