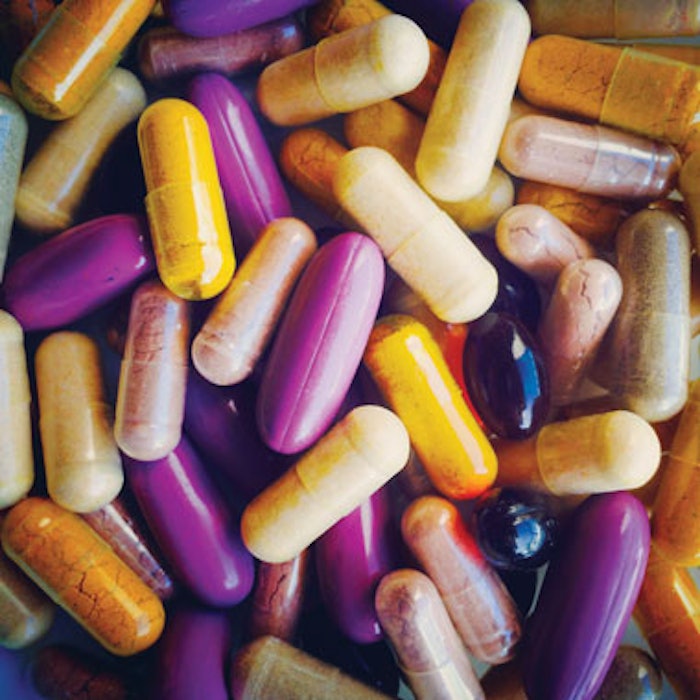 "Nutricosmetics—nutrition or nutritional supplements for skin health and beauty—is popular abroad and may be the next frontier for improving skin health and beauty in the United States," according to a press release sent to news media from the American Academy of Dermatology (AAD) in February. The release encourages women interested in taking supplements to improve their skin health to consult a board-certified dermatologist. But are practitioners ready to answer questions about which—if any—supplements patients should be using?
"Since we can access our organ from the outside, dermatologists tend to think more in terms of topical therapies than systemic ones, especially when it comes to treating aging skin," says Patricia K. Farris, MD, clinical assistant professor of dermatology at Tulane University School of Medicine in New Orleans, who has a special interest in nutrition and nutritional supplements in skin aging. "Recent studies showing the effects of diet on acne, eczema and psoriasis are, however, beginning to open some eyes. In my practice we talk to patients about nutrition a lot."
There is a growing body of research evaluating the impact diet can have on signs of aging and some skin conditions. One study that has attracted a lot of attention in the past year suggests that a dietary supplement containing bioactive collagen peptides (Verisol, Gelita AG) may have a lasting positive dermal effect. The independent study led by Ehrhardt Proksch, MD, professor of dermatology at the University of Kiel in Kiel, Germany, included 69 women 35 to 55 years old (Skin Pharmacology and Physiology, February 2014). Two dosages—2.5 and 5.0 grams—were tested. Subjects were evaluated for a variety of parameters with the focus on skin elasticity at baseline and at four and eight weeks. There was significant improvement in skin elasticity at both four and eight weeks, with greater improvement among patients receiving the higher dosage. While many antiaging solutions seem to work better for women in their 30s and 40s, the increased elasticity in this study was more pronounced in women over 50.
Gelita AG has posted its own study of 100 women in their mid-50s on its website. The company study shows a significant reduction in wrinkles after only four weeks and significantly higher procollagen concentrations.
"The Proksch study is interesting and the first of its kind," says Dr. Farris. "Supplements containing bioactive collagen peptides did seem to turn on some biological activity, but there is still a lot to learn. For example, what are the long-term effects? This study was only eight weeks. Verisol might be beneficial, but we tend to recommend whole food nutrition rather than supplements for a variety of reasons. One, of course, is the unregulated nature of supplements—we can never be sure what they include. And we have learned from other studies that nutrients work in tandem, so when we isolate specific molecules from whole food, we may not be including others that ensure its effectiveness."
Dr. Farris references an October 2007 study by Maeve C. Cosgrove and her colleagues (The American Journal of Clinical Nutrition) as a good starting point for additional research. The Cosgrove study included 4,025 middle-aged women and was designed to assess the relationship between their recorded nutrient intake and skin aging. Findings indicated that those whose faces had a wrinkled appearance consumed significantly less protein, potassium, vitamin C and vitamin A. Dry skin was observed in women with lower linoleic acid and vitamin C intake. The authors concluded that "higher intakes of vitamin C and linoleic acid and lower intakes of fats and carbohydrates are associated with better skin-aging appearance."
"I use a holistic approach for my antiaging patients that includes educating them on balanced nutrition and the proper use of topical skincare products and cosmeceuticals," says Dr.Farris. "Of course, I do plenty of fillers, neurotoxins and laser treatments as well."
Linda W. Lewis is the contributing editor of MedEsthetics.
Image copyright Getty Images.