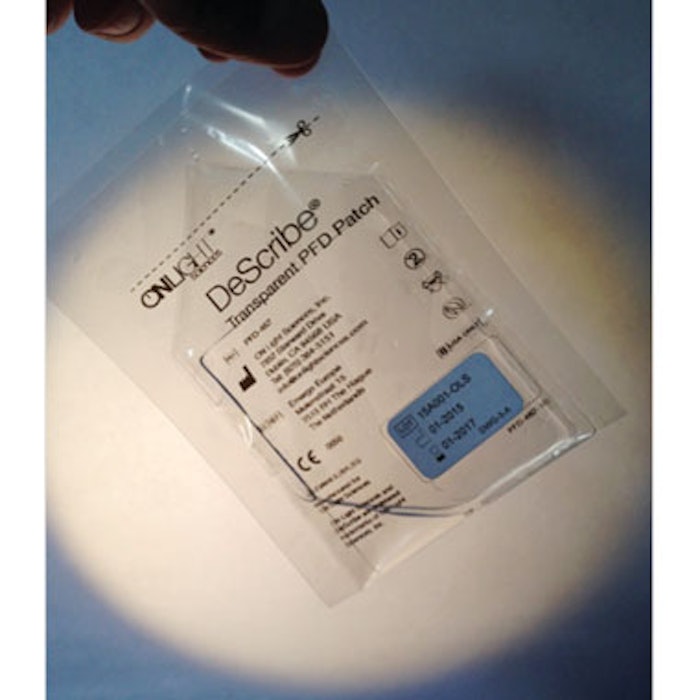 In a pilot study to investigate laser tattoo removal through a perfluorodecalin (PFD)-infused patch (DeScribe, ON Light Sciences), Brian S. Biesman, MD, FACS, et al, found that the patch conclusively demonstrated faster clearance than typical single-pass treatments.
Fifteen subjects with blue or black tattoos were treated with a standard Q-switched alexandrite laser at maximum tolerable fluence—one half of each tattoo was randomly assigned laser treatment using the perfluorodecalin (PFD) patch, while the control half received conventional laser treatment only. Treatments were repeated every four to six weeks.
Due to micro-bubble formation, researchers were able to deliver only a single laser pass on the control side, yet four passes were routinely achievable if the PFD patch was used. The majority of subjects (11 of the 17 PFD-treated tattoos) showed accelerated clearing on the patch side of the tattoo and preferred the patch-treated side versus the control. No adverse events were observed.
"The device, recently cleared by FDA, rapidly absorbs gases in the opaque white layer of micro-cavitation bubbles allowing rapid, multiple laser passes. The results indicate that multi-pass treatment of tattoos with highest tolerated fluence facilitated by a transparent PFD-infused patch clears tattoos more rapidly than conventional methods. The presence of PFD in tissue enhances deep light penetration through optical clearing, allows prompt retreatment, enhances patient and provider satisfaction, and eliminates potentially noxious fumes and debris," said Dr. Biesman.
The study was published in Lasers in Surgery and Medicine (LSM, October 2015).
Photo courtesy of ON Light Sciences.