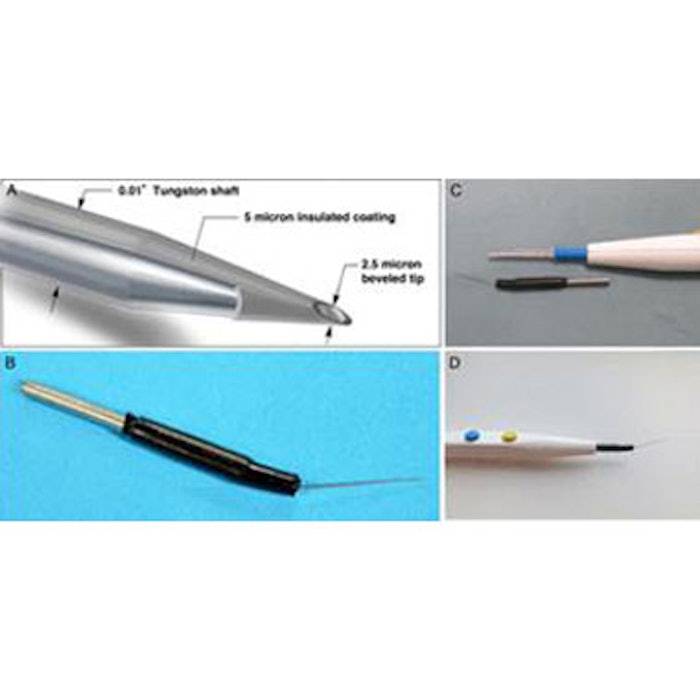 For a recent study published in the Aesthetic Surgery Journal (September 2015), researchers Mirsad Mujadzic, MD, et al, treated spider veins with a new device called the Given Needle, a microneedle with an insulated shaft that delivers low voltage current to the vein through an exposed beveled tip.
Thirty women between the ages of 32 and 67 were treated with the Given Needle between July 2008 and August 2009. In a six-month follow-up after one treatment, twenty patients (66%) had more than a 70% resolution. The most common complication was skin erythema, which developed in 15 patients, followed by bruising in 13 patients. Both complications resolved in two to three weeks.
Researchers concluded that: "This study of the Given Needle has shown a meticulous and precise approach with clearance of more than 70% achieved in 50% of patients after the first pass. The results are comparable with sclerotherapy and laser, and represent an effective alternative treatment."
Pictured: (A) Schematic drawing of Given Needle, (B) The Given Needle, (C) Comparison of the Given Needle bottom left with a standard handle tip above, (D) The Given Needle inserted into a standard handle; courtesy of the American Society for Aesthetic Plastic Surgery (ASAPS).