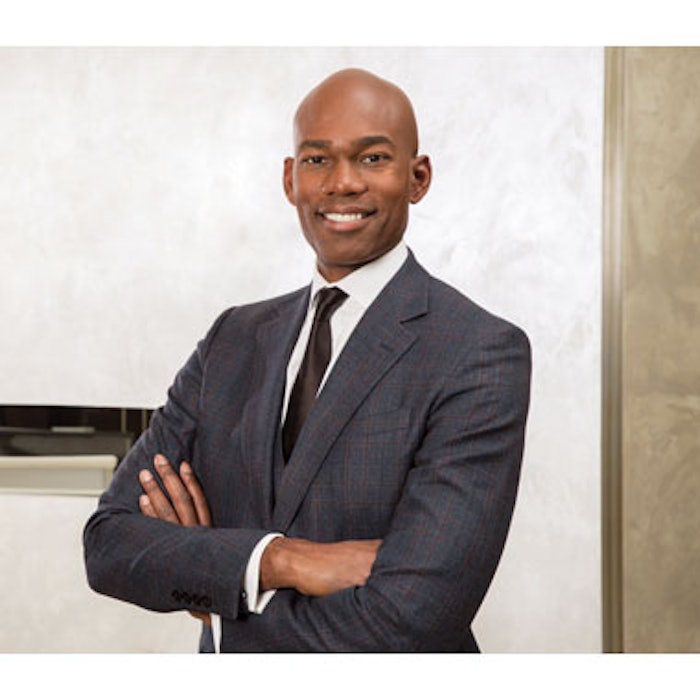 At age six, Julius Few, MD, already knew exactly what he wanted to be when he grew up: a doctor—specifically, a surgeon. His inspiration: Dr. Quincy, a forensic pathologist played by actor Jack Klugman in the 1970s television series Quincy M.E. Of course, Dr. Quincy's fictitious patients were dead, but that fact escaped the young Julius Few.
"Quincy was a sleuth," says Dr. Few. "When I saw him operating on people, I thought that was the coolest thing and I knew that was what I wanted to do."
Today, Dr. Few is the director and founder of The Few Institute for Aesthetic Plastic Surgery in the heart of Chicago's Miracle Mile. He also maintains a clinical presence in Manhattan, where he sees patients on a regular basis. The practices are based on his trademarked philosophy of the Continuum of Beauty, which involves combining multiple modalities to provide natural-looking results to patients of all ages and skin types.
In the past seven years, Dr. Few has become well known for his ability to achieve natural-looking enhancements that preserve each patient's individuality and ethnicity. Asked to describe his aesthetic philosophy, he says, "It's about the pursuit of graceful aging—without making it obvious."
From Academics to Private Practice
Fascinated by the circulatory system, Dr. Few originally planned to be a heart surgeon. While in medical school he did externships in thoracic surgery and vascular surgery. But then he became acquainted with a plastic surgeon. "He had his MA in fine art and photography, so he looked at medicine through an artistic lens," says Dr. Few. His colleague's sense of artistry—and his ability to use it in medicine—resonated with Dr. Few. "I was always the kid with the imagination. I've always liked drawing and painting. I still do oil paintings," he says. "I realized that going into plastic surgery would allow me to harness that creativity and apply it to my livelihood."
Dr. Few spent the early years of his career in academic medicine as a clinician and associate professor at Northwestern University. "I was successful in the academic environment," he says. "But I had reached a juncture where I had a vision of creating an institute that could be more nimble, more responsive to the rapidly changing cosmetic field, and where I could cater to patients and also do more research and development."
In 2008, he launched The Few Institute, which offers aesthetic surgery as well as noninvasive cosmetic treatments. His staff of 10 includes four medical extenders and three employees who offer concierge services to his high-profile patients, including entertainers, actors and professional athletes. Believing that successful management starts at the top, Dr. Few has a hands-on management style. "I have very little turnover, but it takes a delicate balance of supervision and empowerment, and a lot of energy to make sure people work cohesively," he says.
Dr. Few also trains young plastic surgeons through an ASAPS-acknowledged fellowship program at The Few Institute. "That may eventually open the door to bringing in or collaborating with another physician," he says.
Photo by Scott Bell.
[pagebreak]
Incorporating Noninvasive Care
Dr. Few's interest in—and research on—noninvasive technologies dates back more than 15 years. He was the first researcher to study the use of hyaluronic acid on skin of color. "At the time, there was concern that injecting fillers into someone with darker skin would be a problem due to the risk of keloids," he says.
That research opened the door to more studies. "I became recognized as a person who could design and execute studies safely and effectively. So I was able to do more innovative stuff," he says. "I also saw what noninvasive treatments, such as fillers, Botox and lasers meant to patients—it made them extremely happy. As technology became more available, I did more research, which led me to being more creative in applying these technologies."
Among his most successful innovations are his trademarked "stackable" treatments—a technique whereby he strategically combines several nonsurgical modalities in a specific order, rather than breaking the treatments up into several sittings. "The common thinking is that nonsurgical treatments don't do enough," he says. "But I show patients that they can get substantial improvement."
For example, he may combine Ultherapy, injectable fillers and laser resurfacing treatments to deal with the three main issues of aging: wrinkling and loss of elasticity, deep-tissue sagging and loss of volume. "I target all three at once, in one session," he says. "By doing that, I get results that exceed what could be achieved if I had done each treatment alone. I use noninvasive tools like a surgeon uses a knife and surgical instruments."
It's Only Natural
His knowledge of facial anatomy has helped Dr. Few develop a reputation for enhancing, but not changing, his patients' appearance. He emphasizes preserving ethnic characteristics and has developed proprietary techniques to treat skin of color to avoid bruising, darkening and excess swelling.
The idea, he says, is that everyone wants to look their best but still look like themselves. "When I was growing up, the thought among African Americans was that plastic surgery would make you look white. So it was shunned. People did not feel comfortable pursuing plastic surgery," he says.
Dr. Few will turn patients away if they ask for procedures that he feels are not in their best interests. He estimates that about one-third of potential patients are not candidates for treatment or surgery. "I have to be incredibly delicate—don't want to make them feel bad—but if a potential patient wants surgery or nonsurgical treatments that would be to their disadvantage, I have to tactfully tell them I won't do it," he says.
Among such requests: One woman had multiple surgeries and filler injections in another state, and she wanted more She came to Dr. Few asking for additional fillers. "If I had my way, I would have taken some away," he says. "Over-filling ages the skin, so I won't do it."
Photo by Scott Bell.
[pagebreak]
The Few Initiative
Despite the long hours required to perform surgeries see clinical patients and manage a plastic surgery practice Dr. Few is determined to focus on more than practicing medicine. In 2013, he founded The Few Initiative for Children. "Growing up during the Civil Rights period, there were times that I was in situations where I felt I didn't have a voice," he says. "That is why I wanted to provide a voice to these very bright young men and women. I want to empower them to develop programs that will benefit their community on a larger scale."
The nonprofit organization gives young men and women—who are named "Few Initiative Ambassadors"—financial assistance and resources so that they can, in turn, design programs to help others in their community. The idea is to inspire Chicago's disadvantaged and at-risk youth and give them the tools and leadership skills they need to succeed.
Dr. Few regularly hosts "Night of Beauty" events with speakers and demonstrations on the latest nonsurgical technologies. Proceeds from treatments and products purchased at the events directly support The Few Initiative.
These philanthropic efforts boost awareness of Dr. Few's practice, but that is not his main goal. "The Few Initiative lets me engage more in the community as a whole, so it's part PR but it's part therapy, too," he says. "It takes my head into a totally different space, which is refreshing.
"If providing cosmetic services was the only thing I did it would be easy to get cynical. My work in the community allows me to think about my life in a holistic way and has changed the way I practice. My focus is not just growing the practice," he says. "My focus is to have a rich life."
Maryann Hammers is a freelance writer specializing in the medical, beauty and spa industries.
Photo by Scott Bell.