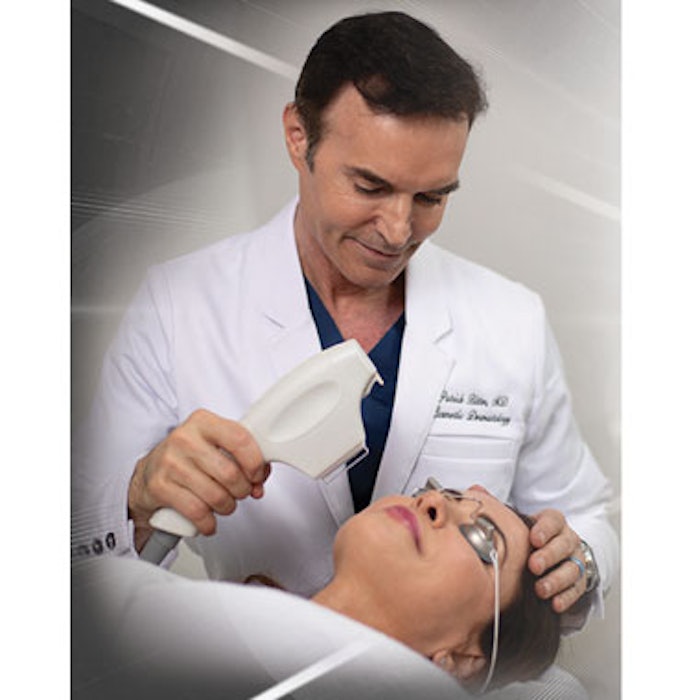 As the son of a dermatologist and his namesake, Patrick Bitter Jr., MD, might have appeared to have a set career path. As founder of Advanced Aesthetic Dermatology, with offices in Beverly Hills and Los Gatos, California, the board-certified dermatologist is widely known as an expert on treating skin with light.
However, as a 24-year-old medical student he was more interested in becoming an orthopedic surgeon. "Then I spent time in the operating room while the surgeon and anesthesiologist discussed their new vacation homes and the hottest new restaurants—neither of which was interesting to me," he says. "In surgery, your patient is out. I love interacting with human beings, and I could not picture myself spending my career like that."
On the other hand, when he did his dermatology clinicals, Dr. Bitter was inspired by his patients, many of whom were World War II veterans. "I'd be whittling away at skin cancer on their noses, and these 80-year-olds were sharing amazing stories about their lives," he says.
Such patient-bonding experiences, combined with finding a mentor in Bill Watson, MD, at Stanford University convinced him to pursue dermatology. "He was delightful and colorful, and I loved Dr. Watson's bedside manner," he says. "A patient would come in with something on the skin that mystified other doctors. In 30 seconds, Professor Watson could identify the problem. He said that you have to learn to read the skin. It was like learning this secret special language."
Following residency at Stanford University School of Medicine, Dr. Bitter joined his father's practice in San Francisco. "My father is a very bright man and unafraid to try new things," he says.
A Game Changer
As serendipity would have it, the elder Dr. Bitter was one of the first dermatologists using noninvasive treatments such as IPL (Intense Pulsed Light). At the time, only six practices in California had Photoderm, the IPL device made by ESC Energy Systems in Israel. "[There were] maybe 100 of the devices in the world at that point. My father was using it to treat brown spots and broken capillaries, and he suggested that I start working with it so we could split the patients," says Dr. Bitter, who was 10 years into his career at the time. "I was disenchanted with IPL in the early days, because if I treated four spots with IPL, one would go away and the other three were still there. You never really looked that different."
That was when he made a decision that altered the course of his career. He started treating the entire face rather than doing spot treatments. He noticed a significant difference in patients: diminishing wrinkles and age spots. "At the time, those with sun damage and wrinkles didn't have many options. Laser resurfacing was considered a breakthrough, but it was a brutal treatment, and the recovery was painful. I didn't like torturing people and didn't like that it left skin looking plastic. In some cases, there was burning and striping and patients were left with permanent scars."
That created a negative perception within dermatology, particularly with his colleagues on the East Coast, who were more academic in their approach. "That was the climate when I introduced IPL," says Dr. Bitter, who has won many awards—most recently being named the 2018 MyFaceMyBody Male Dermatologist of the Year. "Some of my colleagues went as far as to say there was no place for lasers in dermatology."
He got equally impressive results with patients suffering from rosacea. "They didn't have the flushing and burning in their face, and everyone was talking about the compliments they were getting," he says. "With the technique I developed using IPL, I was getting consistent, predictable results for everybody I treated."
Despite his close relationship with his father—the duo became the first father-and-son team to complete the inaugural Ironman Triathalon in Hawaii—he parted ways with him in 1998, because his dad wanted to keep the technique in the family. "I knew it was too good to keep it to myself," says Dr. Bitter, who eventually established his own practice where his new technique quickly gained popularity among celebrities.
Spreading the Word
He gave his painless, noninvasive procedure of treating skin with intense pulsed light a name—the FotoFacial—to differentiate it from laser resurfacing. The procedure works to repair collagen and elastin by sending intense pulses of light deep into the dermis. The result: a reduction of wrinkles, fine lines, discoloration and brown spots.
In September 1998 he was given six minutes to present about IPL at a conference. A writer from Skin & Allergy News happened to be in the audience. "I've never seen photos like you showed," she said afterward and wrote an article that put FotoFacial on the map. In 2000, Dr. Bitter published a landmark paper on skin rejuvenation in the Journal of Dermatologic Surgery.
Today, that game-changing innovation has spread to an estimated 20,000 practitioners. "It was a disruptive procedure and now it's recognized as mainstream—the most commonly done laser or light procedure besides laser hair removal," he says.
To date, he has trained more than 8,000 physicians, nurses and laser practitioners throughout the world on his trademarked FotoFacial procedure. For the last two decades, he has worked continuously to improve the procedure and dedicates about two months out of each year to teaching and training.
He points out that doctors typically spend $60,000 to $120,000 on an IPL device. "I would feel like it was an injustice to not show them step-by-step how to do this procedure. I owe it to them," he says. "Besides, it is my baby, and I feel a personal responsibility to colleagues to teach them how to do this procedure well and do it right."
He recently hosted several doctors in his office to demonstrate different techniques. As he finished one procedure, he commented that it took about 15 minutes. One doctor asked, "How can you do it in seven minutes?" That hit a nerve with Dr. Bitter, who replied, "If you don't have 15 minutes to invest in making someone's face look great, then you shouldn't be an aesthetic practitioner. It's a privilege to do what we do."
His main advice for students and new doctors is to never be satisfied with mediocrity: "Always focus on what's best for the patient."
A 63-year-old grandfather, Dr. Bitter uses his technique on himself and his wife, Abla Christiansen, his aesthetic practice director. "Because I'm a surfer and triathalete who grew up in Southern California, my skin should look like crap, but my wife and I look much younger than we are due to FotoFacial treatments," he says. "I've done more than 100 on myself."
Last year he was at an event with prominent dermatologists in Las Vegas. "Several of them were bragging that they'd never done anything to their faces," says the former USA Triathlon National Champion and two-time Hawaiian Ironman Triathlon finisher. "They looked like they could use something. You need to practice what you preach, or lose credibility. As a clinician you have an opportunity to be a role model."
Still Innovating
Three years ago, Dr. Bitter stopped accepting medical insurance to concentrate exclusively on the aesthetic side of his practice. "I was spending a third of my time doing medical dermatology, but it only produced 5 percent of total revenue," he says. "I had to hire a full-time staff person to get prior authorizations, and as a 60-year-old man I didn't need people telling me how to take care of my patients and determining my value."
A final straw was when he realized that he was making about 50 cents for removing a melanoma. "Abla helped me see that I needed to concentrate on creativity and teaching and speaking as an innovator in our field," he says. Christiansen, who was a college professor when they met, helps organize all of the courses he teaches online. She also built a social media presence for him and Advanced Aesthetic Dermatology.
In the last decade Dr. Bitter has consulted with half a dozen different IPL makers, but in recent years he has been working with the BBL (BroadBand Light) made by Sciton. Developed in partnership with Sciton, the Bright Lights Big City Preceptorship Tour, now in its fourth year, took him to 27 cities in the United States in 2018, and he has trained thousands on the BBL since 2016.
"I am a fan of Sciton," says Dr. Bitter. "They make the best IPL on the planet, and with BBL and SkinTyte technology I can work on sensitive areas like lips, eyelids and ears. I can dramatically improve joint pain, improve body contouring, reduce loose skin, enhance sexual pleasure by treating the vulva in women, make penises bigger and harder, and better treat acne and scarring."
In 2018, he developed and trademarked two additional procedures to enhance sexual wellness in men (Man UP!) and women (LoveTyte), and in 2019, he developed and trademarked HEALyte, a new procedure to improve soft tissue pain.
"You have no idea where your career is going to take you," says Dr. Bitter. "I have appeared on many TV shows including 'Extreme Makeover.' I've lectured in China numerous times. Some of the biggest stars have come to me and shared their life experiences. None of that was on my mind when I was in training. I had no idea I would invent a procedure that would lead in this direction."
The doctor, scientist and inventor asserts that light is magical. "Light has a powerful antiaging effect," he says. "The light energy we use goes an inch and a half below the surface of the skin. It includes infared light, and I believe this same spectrum of light can have dramatic results on antiaging for other parts of the body."
Echo Montgomery Garrett is a freelance writer based in Marietta, Georgia.
Photography: Jim Gensheimer